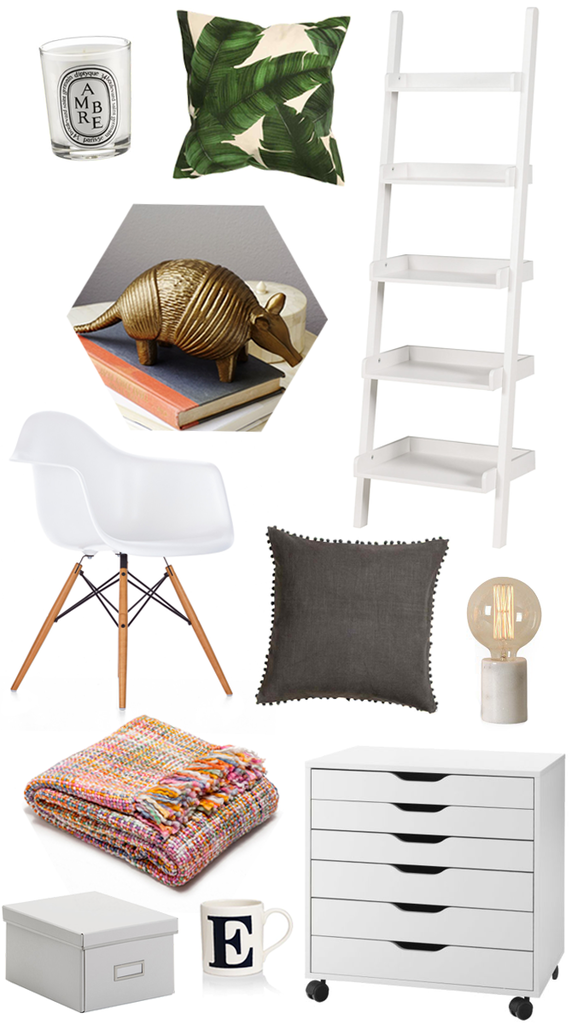 Here's a little mishmash of pretty things I've been thinking about a lot, and general ramblings on my part. Old habits die hard.
My little room has been an ongoing project for what feels like forever. It's where I spend a huge portion of my time - for relaxing, sleeping
and
working - so having a space I can be happy and motivated in is so important. For a long time I've felt suffocated and a bit hopeless, not knowing how I'll be able to make it better. It does seem a bit pointless completing it so close to a time I'll be looking to move out, but I've never really been one to fight an urge..
I'll get around to showing my 'office space' when I get the chance, but for now everything I own is trusty IKEA. No surprises there! I've changed a few bits around, replaced my huge bookcase with a smaller one and got another set of
ALEX drawers
(on wheels this time.. exciting!) for under my desk. The joy of storage indeed. I'm still loving the thought of a
ladder shelf
. I don't have any room for one, so the idea is reserved for when I have my own place; for now I'll have to stick to Pinterest and an over-active imagination.
A while back I tweeted about this little brass armadillo from
West Elm
. Nope, not stopped thinking about it. What purpose he'd serve, I don't know.. but he sure would be nice to look at! I spotted these little
alphabet mugs
in M&S before Christmas and have made a mental note to buy a couple. A good light is still on my list too - look at this little beauty from
Heal's
! Pls give.
I used to be all over patterned bedding (if you have any recommendations for good quality bedding that doesn't cost the Earth, pop them down below!), but more recently I'm really into the idea of plain sheets with accents of colour thrown on top. I bought this bouclé effect weave blanket from
Zara Home
a few months ago and I love it - super soft and a great mix of colours. They've since increased the price. Swines! The
leaf print
and
pom-pom cushios
are both H&M and I'm clicking back to see if they're in stock more than I care to admit at the moment. I did have my eye on some similar leaf print covers on Etsy, but the potentially extortionate customs charges are holding me back for now. We'll see!
Finishing touches will be a cute chair - not even sorry that I'm planning on joining the
Eames
bandwagon here - and extra small storage (
these are great
for tech and stuff that just needs a place to live).. and another candle won't hurt.
Which home bits are you loving at the moment?