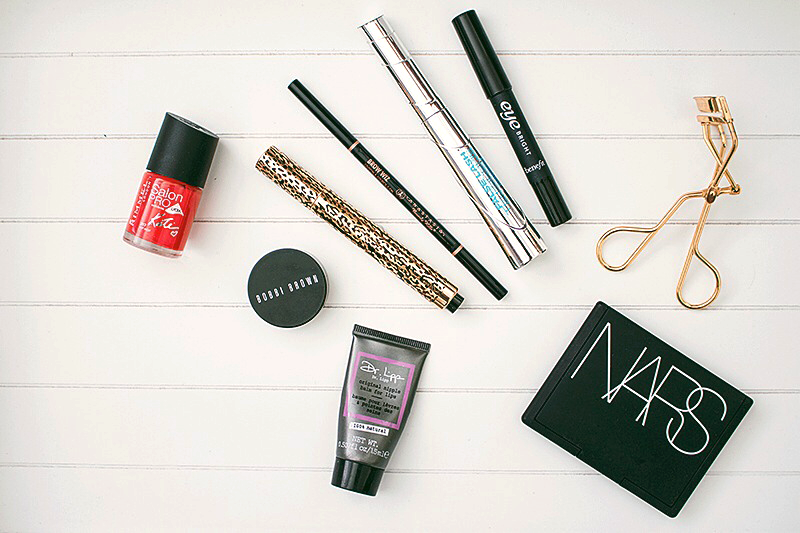 As a self-confessed beauty addict and someone who gets to try out a plethora of products, it's not surprising that a lot stuff, unfortunately, gets swept under the metaphorical rug. Going through my stash recently, though, I realised there are a few bits I simply cannot be without, and as such they've been repurchased time after time. Here's my most loved..
Rimmel Salon Pro Kate Moss Nail Polish in Hip Hop
, £4.49,
ASOS
: second bottle after my first went gloopy after the contrast in temperatures after I took it on holiday with me. In some lights it looks orange-red and in others has more of a pink tint to it, the brush makes for easy peasy application and the price tag is equally pleasing.
Bobbi Brown Corrector in Light Bisque
, £19,
John Lewis
: a colour correcting, super creamy pre-concealer that cancels out blue and purple tones under the eyes. I was lost without this when I ran out and don't go a day without using it.
Dr. Lipp Original Nipple Balm for Lips
, £11.50,
Space.NK
: this is never
not
in my bag or pocket. Like an unfragranced Elizabeth Arden Eight Hour Cream, it can be used for pretty much anything but it's a saviour for my dry lips and cuticles.
YSL Touche Éclat Complexion Highlighter
, £25,
John Lewis
: I've lost count of how many Touche Éclat pens I've been through in my time, but it's probably well into double figures now.
Really
. Great for touch-ups and adding a believable radiance to the skin. I'm almost too scared to use this
Touche Éclat Wild Edition
* as it's so darn pretty!
Anastasia Beverly Hills Brow Wiz in Medium Brown
, £15.50, Cult Beauty: after buying my first Brow Wiz stateside, I was hooked from first use. One end twist-up pencil, the other a handy spoolie brush. I was pleasantly surprised with how long it lasted but swiftly repurchased from one of my favourite online beauty havens, Cult Beauty, once I ran out.
L'Oréal Paris False Lash Telescopic Mascara in Waterproof Black
, £10.99,
Boots
: a favourite of mine for many, many moons, the old blue tube was discontinued for a while and I almost gave up before the new packaging was introduced. Thankfully the formula wasn't messed around too much and it remains one of my most loved mascaras.
Benefit Eye Bright Pencil
, £15.50,
ASOS
: I'm still getting through the pile of these I stocked up on when Glamour included them as a freebie a few years back, but it's my go-to for brightening up the waterline on a daily basis. Its pale pink hue along with creamy formula wakes everything up and makes such a difference.
Shu Uemura Eyelash Curler
, £20,
Space.NK
: if I had to pick
one
beauty tool, it'd be the Shu Uemura curler. There's not a day that goes by that I won't curl my lashes, even if I skip mascara.
NARS Bronzing Powder in Laguna
, £27,
ASOS
: I'm not alone in my adoration for NARS Laguna. Mostly matte brown without too much orange and a subtle shimmer, Laguna is a big hit for those lusting after a golden glow.
Do you have any beauty bits you just
have
to, without fail, repurchase once you hit pan?
SHOP THE POST