So, I am
finally
swatching/photographing all the stuff I came home with from the
Eyeko birthday event
almost two weeks ago! Sorry for the delay!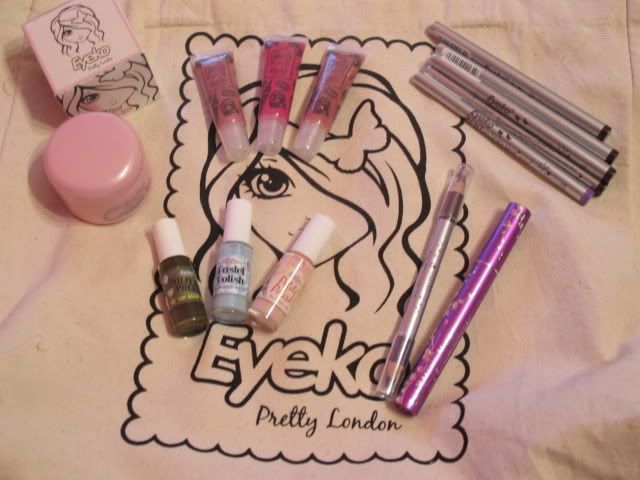 I was lucky enough to receive three nail polishes, a double-ended eye pencil, graffiti eye liner pen and Magic Mascara in my goodie bag (along with
the cutest tote ever
and a tee I totally forgot to photograph!) and there were bits placed around the venue which everyone was helping themselves to so I did the same! All the nail polishes had been nabbed but I got a few lipglosses, the
extra glow cream
and some more graffiti pens (we were told they were faulty but mine seem fine!) - if only I got a black one!
Here's some swatches of the
nail polishes
: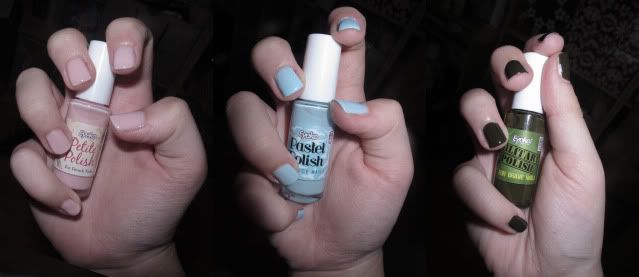 Petite Polish - for French nails: if you have short nails (no white bits) then this won't need as many coats compared to if they're long as it doesn't cover the white very well for the first couple of coats! It's super sweet though.
Pastel Polish - for nice nails: I thought this would be a little like
Rain Polish
but it really isn't! It's a bit lighter, less grey and has subtle shimmer added to it which is what makes it so pretty.
Military Polish - for brave nails: I love this! I've recently been wearing this a lot with a matte topcoat, which I think just adds to the beauty of it (it almost looks black until you look closely!).
(for some reason my hands get smaller as the pictures go along, it looks funny to me!)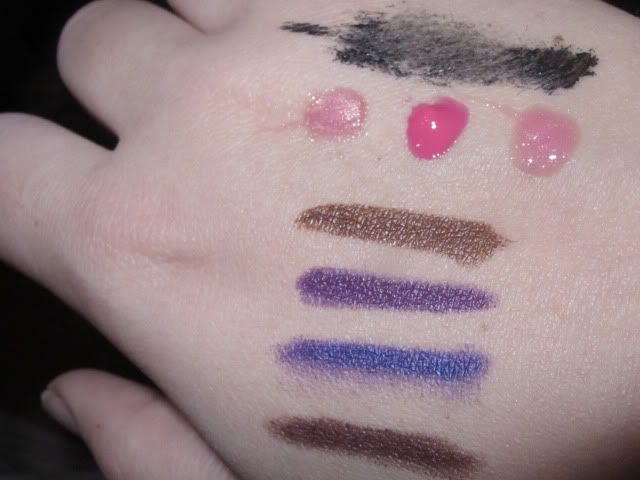 The rest of the goodies (from top):
Magic Mascara
(pointless but still!)
London Lips Portobello
London Lips Soho
London Lips Primrose Hill
Graffiti Eyeliner
(brown)
Graffiti Eyeliner
(purple)
Line & Shine Duo pencil in Super Star
(electric purple and plum)
Hope you enjoyed this post! If you've tried any of these products, what do you think? Also don't forget you can receive a free gift when entering code
E10921
into the comments box when shopping on
Eyeko
!