Today has been full of annoyances - I woke up late, managed to be almost on time for uni but the police closed the road off so my bus diverted and then I walked instead (whilst being stalked by some crazy South African boy that kept mumbling so it was even harder to understand him), and I forgot my sketchbooks because I was looking for my hospital letter all morning! Needless to say I am in total chill zone right now..
Onto better things now - I had my follow up appointment at the hospital today (for those of you that don't know, I've had two rounds of rhinoplasty since March this year!). Everything is fine now and I've been discharged! I'm so relieved, the doctors seem as happy as me too! Another plus is that I won't have to spend half my life in waiting rooms avoiding awkward stares from strangers for a very long time (hopefully!).
Anyway, here's what I wore today: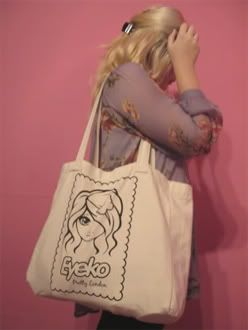 The blouse was from Topshop, I got so many compliments about it today! The bag was a freebie from
Eyeko
at the
event
last Saturday. Perfect for uni on days that it doesn't rain! I look a bit rubbish in all of these photos, I was just too tired to keep trying and they were all first shots. Sorry if you care!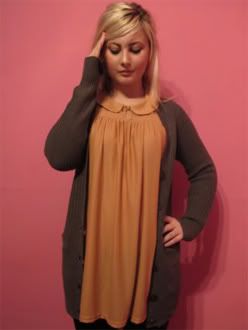 After the hospital I had to return some stuff and did the usual and bought some stuff. The Peter Pan collar tunic is from Topshop, and came in a package I ordered last week so it doesn't really count! Pictured on the right with another of my beloved £7 Primark cardigans!
Both rings from Topshop (quality of the photo is absolutely vomtastic). I need to paint my nails!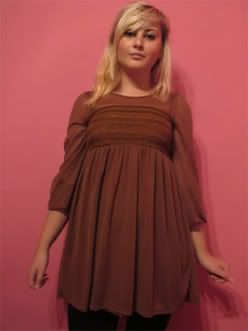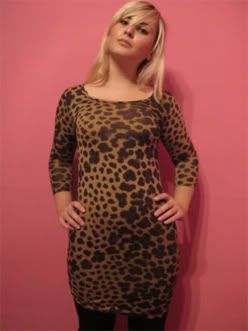 After thinking
this dress
would never be mine, I saw it on the 'buy now or regret it later!' rail.. but it was a size 12 :( then I spotted one on the rack behind the till that has stock saved for other people, and it just so happened to be an 8! Thankfully there was no note on it so I was allowed to buy it (how sad do I sound?). It looks a bit maternity in the photo, but again it was the first and only snap as I'm too tired to take nice ones! The dress on the right was £12.99 from H&M, I'm still undecided but it fits like a glove so I'll probably keep it.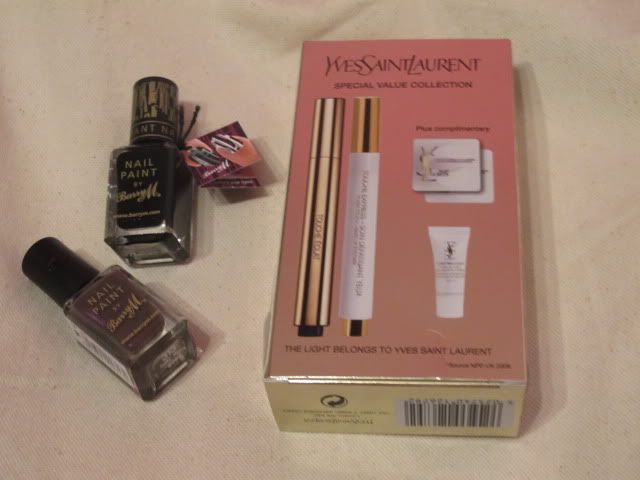 Finally got a new eye cream! The lovely assistant on the YSL counter in Debenhams showed me this set for £43 (when the eye roll-on and Touche Eclat are £24 each anyway) and includes 2 wake-up patches (will be saving them for a special occasion!) and a mini version of the foundation I use now but it's too dark so I'll be saving that for a giveaway! Debenhams are giving 750 bonus points when you spend £40 (if you have a Beauty Club card) which is a pretty good deal so everyone should get themselves to their local store pronto!
I also got the new Barry M Instant Effects nail polish and 'Dusky Mauve' which I haven't seen before - it looks like Chanel's Paradoxal, complete with shimmer unlike Models Own's 'Purple Grey'. I'll do some reviews and swatches of both soon! Superdrug has Barry M nail polish on sale (2 for £5) right now, including the effects one which is £3.95 so I got the other one for a pound! Queen of bargains right here!
Currently watching The Inbetweeners and deciding what colour to paint my talons - ciao!