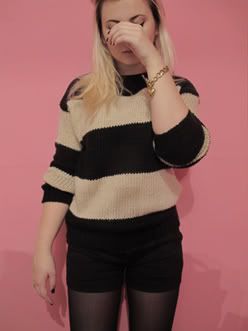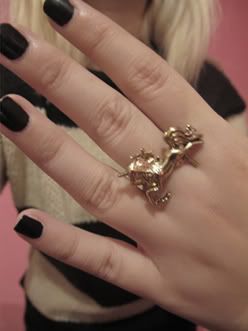 jumper: primark
shorts: miss selfridge
ring: topshop
I'm completely appalled that it's Sunday night already! Time goes way too quickly and somehow it's November tomorrow too! This also means that I turn 20 in 29 days, and I have nothing planned yet. Obviously I need to get my ass into gear for that! I have literally no idea what I want to do, so any ideas would be very welcome :)
Last night I went to my friend's house for a little Halloween gathering. I don't have much money to dress up properly so I just threw some stuff together and eventually became
Harley Quinn
(the
Arkham Asylum version
though of course)! I know it's not very impressive but at least it was an effort!
The other day I bought this jumper from Primark, I so wish I'd have gotten a bigger size (I bought a 10) so it was really baggy, but maybe this is OK after all! I feel a little bit like a robber in it, hence the title (since I've also been eating way too much junk food lately)! The ring is from
Topshop
if anyone wanted to know!
My boyfriend let me order a few bits I had on this year's Christmas list tonight. I'm really annoyed I didn't see
this ring
and order it but it's too late now! I'll just have to hope I find the
H&M version
(without broken antlers!) soon instead! If anyone wants to see what I ordered, you can see
here
!
I forgot to eat dinner today (not exactly a rare occurrence lately!) so I just heated up some
Heinz tomato soup
and am scoffing on Pringles instead! Such a healthy hamster I know!