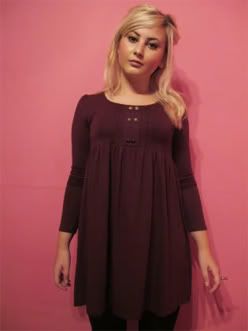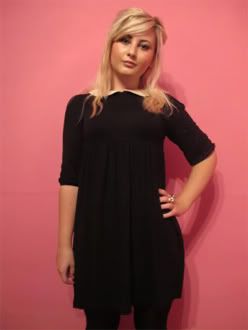 I've had a really lazy day today, I woke up early (as I always seem to do on my days off, typical!) and couldn't get back to sleep, so I watched
Man v. Food
(pretty sure Adam Richman is one of my favourite people ever, up there with Robert Downey Jr. et al!) for the rest of the morning with Beigel, where we met someone who took
the cutest photo of Beigel
, and I got a mammoth blister from wearing my Jimmy Choo Hunter boots for the first time in months and months! Definitely not a good look
or
feeling, let me tell you!
Anyway, onto better things - new purchases! I found a cute mulberry coloured dress in Primark for £9! It was the last of its colour on the rail and it just so happened to be in my size (well, I could have done with an 8 but hopefully this will shrink a little bit in the wash). Also I couldn't wait for my new NUS card to come through (so I could get a 20% discount) as there were only one or two of these dresses left on
ASOS
last week. I'm in love with it! One thing I don't like about some Peter Pan collars is that the colour doesn't carry on all the way around the neck, but it does on this one so I'm a happy bunny!
My hair (my fringe, mostly) looks ridiculous in these pictures, it's too short to fall nicely but long enough to still get in the way and it just won't sit right! I can't wait to go back near to my natural colour, I'll probably regret it for a while but I think I'll end up liking it! The whole idea of less maintenance is very appealing (although I hardly do anything to it now anyway)!
I missed The Inbetweeners on Monday so I'm off to catch the repeat now! Happy weekend to all.