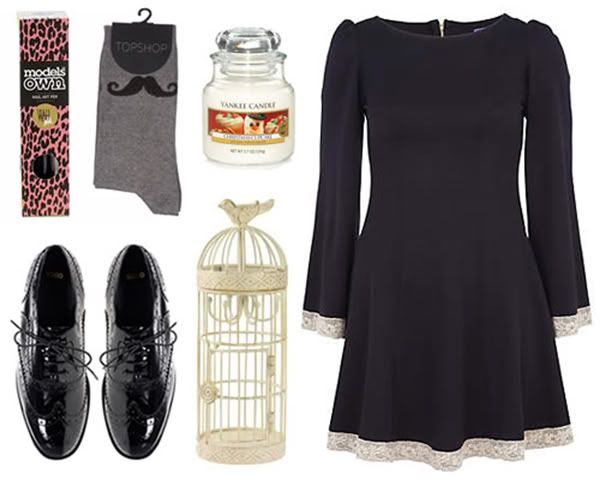 1, 2, 3, 4, 5, 6
I feel like I've bought so much stuff this week but I just wouldn't feel like myself if I didn't have a wishlist! As much as I love using my trusty liquid eyeliner to do my leopard print nails I really want to try the Models Own nail pens! I can't decide between black and white, I'll probably get both but I'll wait till they come into Boots I think! What does everyone think of them?
Aren't those socks just the cutest thing ever? It seems everyone has an obsession with fancy moustaches, somehow they have become so 'cutesy' and everything but whatever! Topshop always seem to do super sweet socks, including some
swallow and frilly ones
I got a while ago.
Everyone goes on about Yankee Candles like they are the best thing ever so I really want to see for myself! Doesn't 'Christmas Cupcake' sound so lovely? I don't know of any stores that stock them, so if you do please let me know! I don't know if I can justify £8 for a small jar of wax!
I already have a few pairs of brogues but I just can't help wanting some patent ones now! We have some at work but they're plastic so as soon as I saw these ASOS ones I clicked on 'save later' straight away! My saved items on there is ridiculous, I must have half the site bookmarked!
I know I posted jewellery storage
last week
but I managed to track down the birdcage online (I saw it in a magazine) and I think it's just magical! You can pick the bird up and the top comes out or open the door to access! I just think it's so pretty. I can't decide what to get!
Lastly, I saw this dress when I was browsing River Island's new arrivals. I don't really wear much navy but I think it will make a nice change to black! I never know whether I should mix navy and black together, but I think navy tights with it might look too much! Total worryguts here! It reminds me of the
Topshop lace trim playsuit
that I wanted ages ago but never bought it because it was in the tall range and I'm.. not! I guess some things just aren't meant to be!