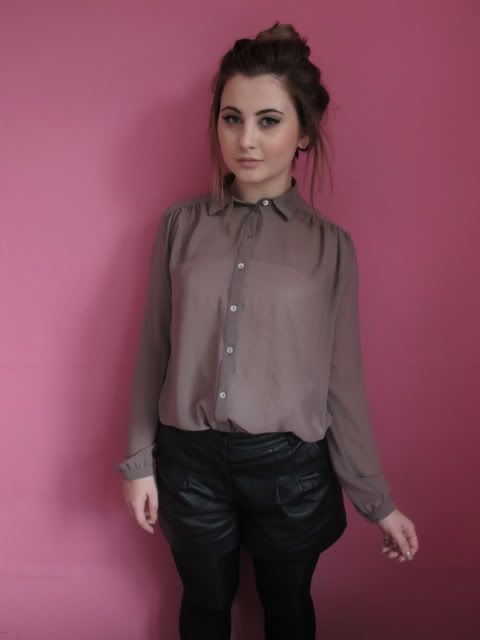 blouse: Primark
shorts: Topshop
Merry Christmas to you all, I hope you're all having a wonderful day and got lots of lovely stuff! I'm currently waiting on my Christmas
feast
dinner, I would help but there's something about Christmas day that makes my dad switch and he literally won't let anyone else in the kitchen! To be honest I'm still pretty full from the mammoth breakfast we had, paired with a glass of
Buck's Fizz
! I think Christmas is the only day of the year when it's acceptable to be tipsy before noon!
We went through the usual rounds of putting everyone's presents into separate piles, watching Beigel frantically unwrap his gifts and cringe at my mum not liking half of the things she got (it's not her fault though, my dad - like most men I imagine - got all of it yesterday and probably didn't even think about half of what he was buying). I didn't get any surprises from Lewis this year because I ordered it all myself with his card, but he's not exactly one to take hints so what was I to do? I did very well though - he loves his
Darth Vader clock
and
Pantone socks
especially!
As you can see I got lots of lovely things also! My favourite has to be
Lotso
just because I waited for so long. I knew I'd got him but I saved opening him till last anyway! He seriously smells so good (like strawberries!) and Beigel keeps trying to take him for himself! I think I'm going to exchange the
shoes
as I love them but they don't suit me very much.. possibly for
these ones
instead?! Knowing my luck nothing will be in stock now, not really looking forward to the manic crowds in shopping centres after Christmas looking for goodies in the sales!
I should probably actually talk about my outfit, shouldn't I?! I got the blouse last week sometime, and I've only just tried it on. I'm not really sure about it (I have a pussybow version also, both with tags still intact!), I think it makes me look rather big and it's not quite opaque enough! It has a dip back which would look quite nice paired with high waisted black jeans I think, but sadly I have none that fit right! It's too high at the front to wear leggings with so I don't know what to do! I think I have more than enough clothes though so I'll probably return it. What do you think?
My dinner should be ready soon, I don't think I've ever had it so late at Christmas! I'm seriously looking forward to all the rubbish telly on tonight, is Sean Slater coming back on EastEnders tonight? I certainly hope so, what a babe!