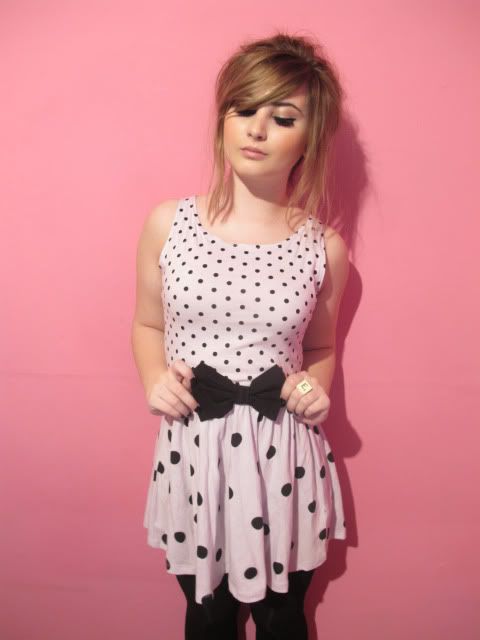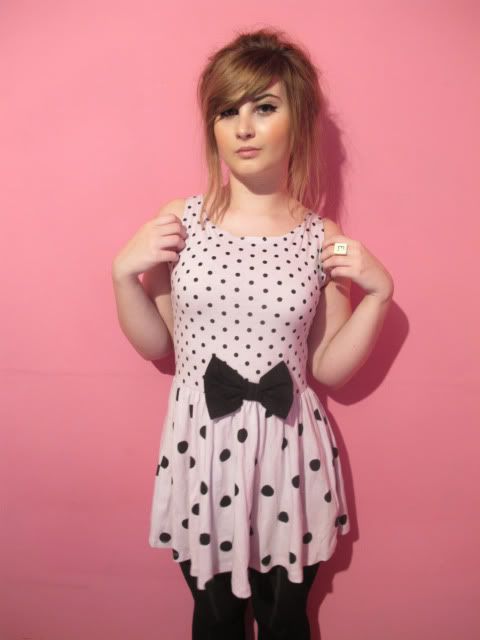 dress: primark
brogues: ASOS
ring: VIPXO
There are a million things I don't like about these photos - they're too bright, my eyeliner is way too thick and my stupid bra strap is showing but they took so long to get semi-okay tonight, and I can't be bothered to take anymore as my back hurts and I have a mega food baby going on right now! Beigel had his long overdue trip to the groomer today so after we went to a pub that lets dogs in (yes you read right, how cute!) and had some dinner. I had a huge burger and an even bigger dessert, I feel like it's all going to come back up every time I open my mouth!
I actually got this dress months ago, in the summer, and it's not really what I usually go for at all (I'm so on/off with polka dots but now I pretty much love them!) but I remember it being something ridiculous like £5 so I couldn't leave it there. It's been hidden in my wardrobe and I recently rediscovered it so thought it was owed its debut! I did have a
black cardigan
on too but the pictures just weren't going quite right. The dress also has a
Luella-esque
heart cut-out detail on the back which you can see
here
, and notice that my 'beehive' is actually a
bit of a
total fail!
I hope you're not sick of seeing me wearing polka dots already as I have a few more dresses with the same print that I am yet to post! Also, if anyone's interested in possibly buying
this tunic
from me, I'm looking at £25 including postage, it's a size 10 (worn once and washed), then let me know. I've gone a bit overboard with spots AND Peter Pan collars lately if you hadn't noticed!
Seriously not looking forward to getting up early for work tomorrow, I don't even know how I'm going to get back into my routine for uni. So totally looking forward to the higher fees for travel too, is it just me or does TFL's service also get worse as it gets more expensive? I need a big kick up the bum so I start learning to drive! Even if it's more expensive, at least I won't have to wait around for a smelly bus four (yes, four) times a day anymore! My dream car is a
Volkswagen New Beetle
in 'Gecko Green'! What's yours?