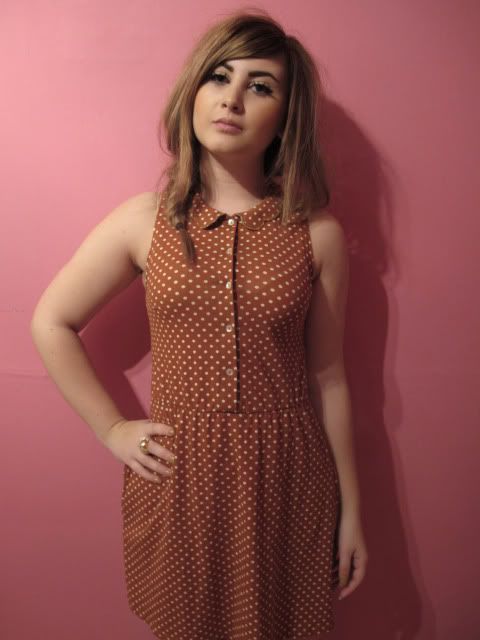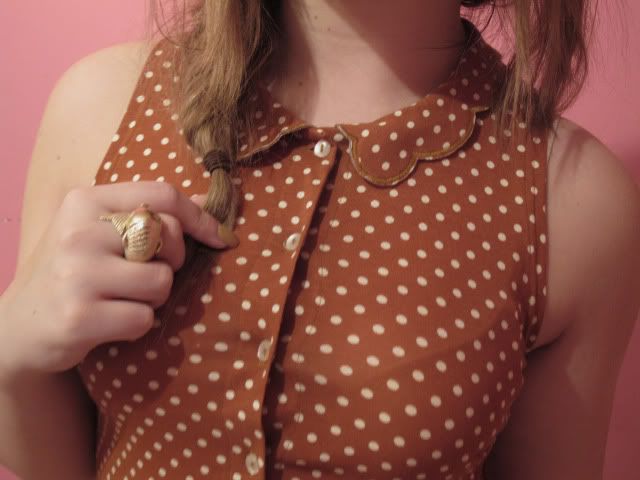 dress: Topshop
ring: Topshop
Photos a bit rubbish today, really need to get used to this wall instead of the one behind my bed! I got this dress a couple of weeks ago, I really love it, or should I say the idea of it. The collar is the cutest thing ever and I love the colour and length, but I can't tell if it's really horrible on me or if that's just my own doubts. I think it would have been lovely with some sleeves? I dunno if I like the way it makes my boobs look either. Gosh I'm a moaner!
I have two more spotty dresses to show, I did take photos of them all on today and something else too, but the pink walls are so harsh as a backdrop in the day and make me look so pale! I guess I am, but I don't need to be reminded! Then again it probably is time to bring out the fake tan again, glad I don't have a holiday booked yet as I can't imagine bearing all in a bikini, gross!
My hair has been slept on so it's sort of fell out and looks poo. I'm scared to take it out though because it's going to be a huge mess! Do you usually just wash your hair after you take out a fishtail plait? I'm too lazy and only do it about twice a week so it's either leaving it like this or doing some kind of beehiving business..
I should probably get an award for being the biggest waffler in the universe. I feel sorry for anyone that reads all this drivel! Let me know if you wanna take all the chocolate/sweets/noodles in my house as an apology from me, you'd be helping me out, believe me. I actually bought a
Shake Weight
(don't laugh!) the other week and have used it a few times now, the first time it absolutely killed! I've been slacking since I've been doing all the DIY and moving my room around, so shall restart operation 'slim arms' tonight! Hello biggest body hangup!
PS. Thanks for all the comments so far, someone said I might like it better in a bigger size and I agree, it seems like it would be better with a baggier fit! Gonna see if I can find one in store!