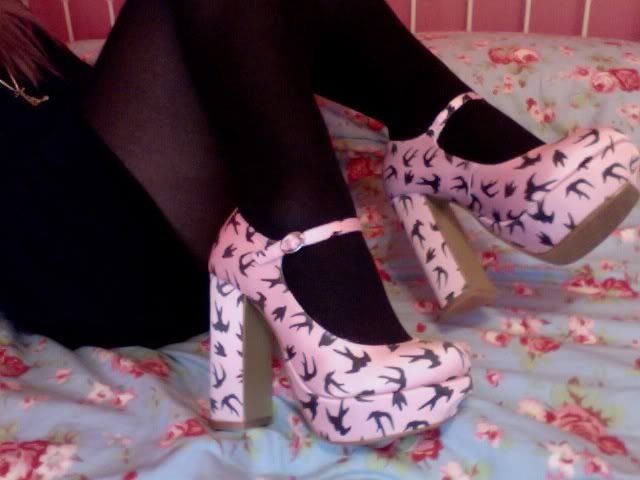 currently doing the rounds on Tumblr!
If you've followed my blog for a while or know me at all, then I'm sure you'll also know that I'm completely obsessed with anything related to the
Miu Miu SS10
collection. I probably have too much animal printed stuff already, but if I see something with cats/birds/horses/etc. on I find it almost impossible to resist! Needless to say I've been looking for a pair of
cat print platform heels
since forever too. Now and again you can find them on
eBay
, which is where I got these from but I can't seem to find any more of the same now. I have seen some
with crystals
though! I usually wear a 38, which is this size, but because they're made in China they tend to run a little small. Hello squashy toes! I will definitely be ordering a size bigger if I can get my hands on them!
In other news, most of my day has been spent at the dentist. My appointment was at 11AM and I got out at about 1:30PM! Extremely frustrating. Unbelievable? Not really. My mum and brother had fillings done whereas I only had a sealant (tastes like banana! Yum!) so they can't eat for a couple more hours. This means I feel bad so I'm not eating till later either! There's so much nice food in the house so I don't know how much longer I can take! I didn't even have any breakfast because I thought I'd be in and out by lunchtime! What a joke. It's always the same though so I don't really know what I expected to be honest! Think I was just destined to be grumpy today..