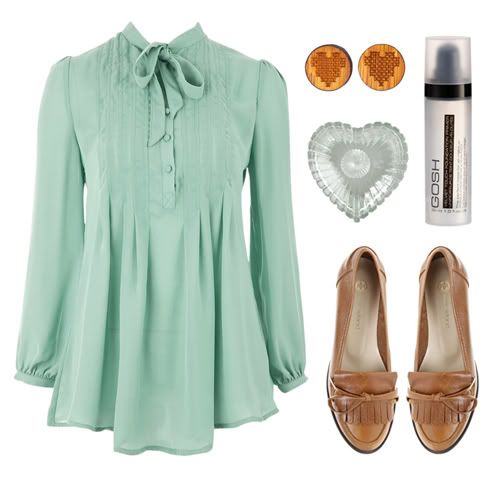 1, 2, 3, 4, 5
001. I have a good few blouses already, but I don't have any (or anything else in fact) in this colour! Perfect for spring, but not so perfect for my bank balance. Hopefully somewhere else will do a similar piece - Primark, I'm looking at you..
002. Cutest studs ever alert!
Stolen Thunder
are a brand I lust after every so often, I love the idea of wooden (bamboo) jewellery, it makes a nice change from gold or silver! I'm glad it's panda friendly as they are my absolute favourite animals!
003. I seem to have been looking for one of these for ages, whenever I get my nails done in a salon I notice they have the acrylic powder in heart shaped glass jars, always! I don't really need it but it would look super cute on my dresser filled with.. ummmm?
004. I used to use
Benefit That Gal
primer before and can't say I really noticed a difference in my makeup when I run out, just that my face no longer smelled like strawberry milkshake every morning! I've read a few reviews on primers and
this
one by GOSH sounds pretty good. Also it's not too expensive so I won't regret it so much if I don't like it! Has anyone tried it? They have an
apricot version
too so I'm unsure of which one to get!
005. More loafers.. all of a sudden I'm even more obsessed with them. I keep picturing myself in Paris with these on so I simply have to get them! I know they're made of really soft leather so they should be comfortable to walk in around the city next month. Can't wait!