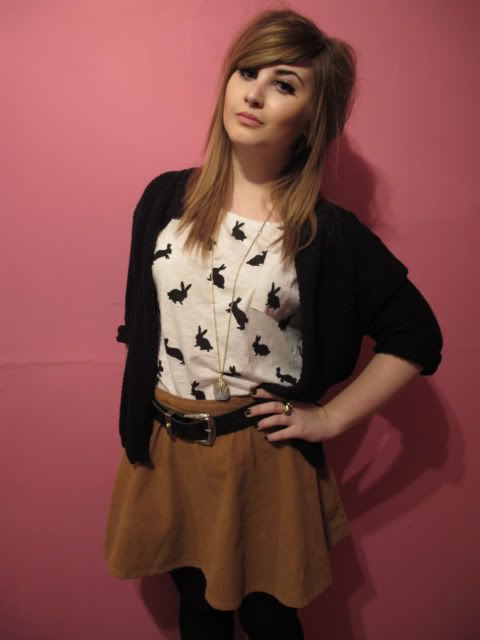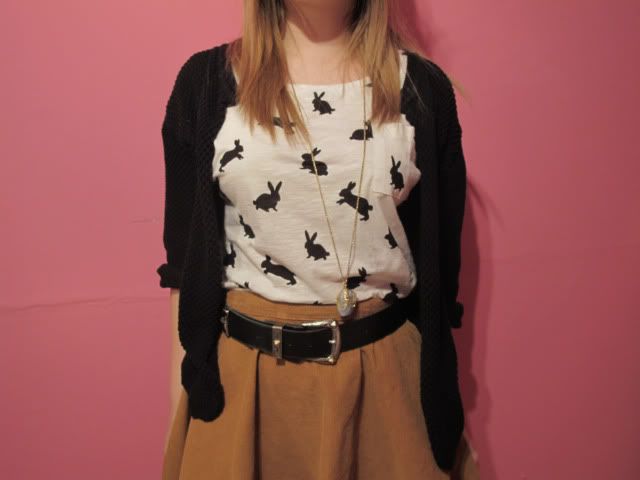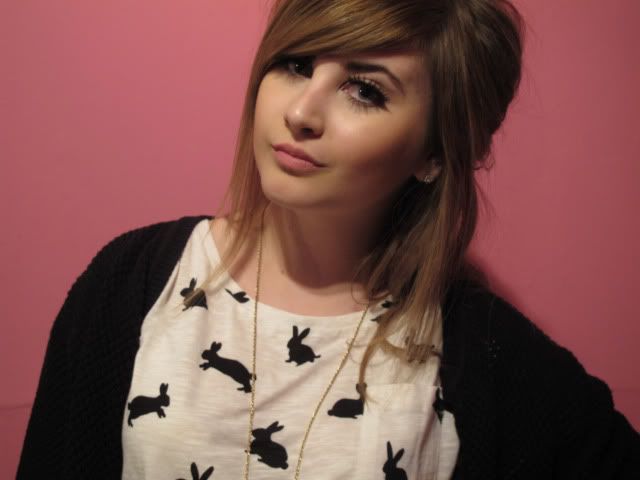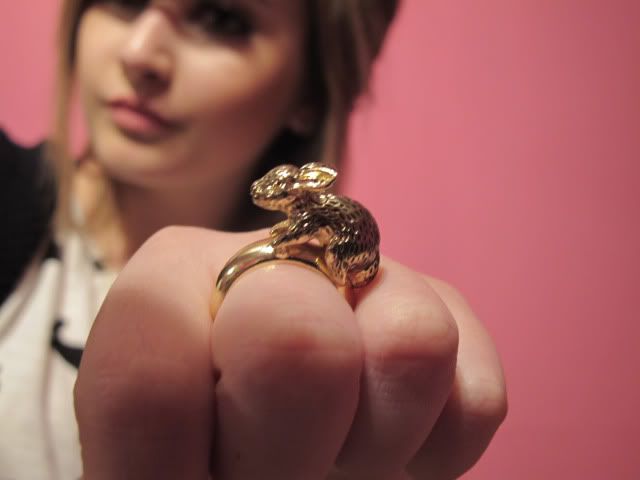 top: H&M
skirt: American Apparel
cardigan: Topshop
belt: vintage
ring: H&M
necklace: Topshop
nails: elf chocolate
Finally managed to get some decent pictures! My back hurts from standing in front of the camera for so long. I guess this is just one of those outfits that looks better in real life than in pictures. At long last I used up my
Groupon
vouchers for
American Apparel
last night after uni. I didn't want to go but they were due to expire tomorrow when I have work and I just wanted to get it out of the way. I got this skirt in the truffle colour as well, they didn't have size small so I got mediums. They fit nicely if a little low and long but they're floaty so at least nobody will see my bum!
I don't have much else to say, except HOW CUTE ARE ALL THE BUNNIES? The top is so comfortable, well everything is, although the belt stopped me eating a whole breakfast baguette today! I just removed the belt too and the outfit looks so much better without it. How annoying.
My soul died a little this morning when I transferred all my money into my mum's bank account. I'm such a huge consumer and it needs to calm down! I did spend too much yesterday but it was kind of a 'must get it out of my system' type thing. I hope she doesn't read this because I'll get in trouble! A lot of people might think it's funny that I'm putting my parents in charge of my money but it really is the best way and at least now I have no choice but to save up as I'm useless at doing it on my own! Gives me a chance to sell/wear clothes I neglect as well. Win win!
Actually so looking forward to getting in the bath tonight, and I can't wait to get into bed. Hello old person! I don't see myself getting up for work otherwise though. Bisous!