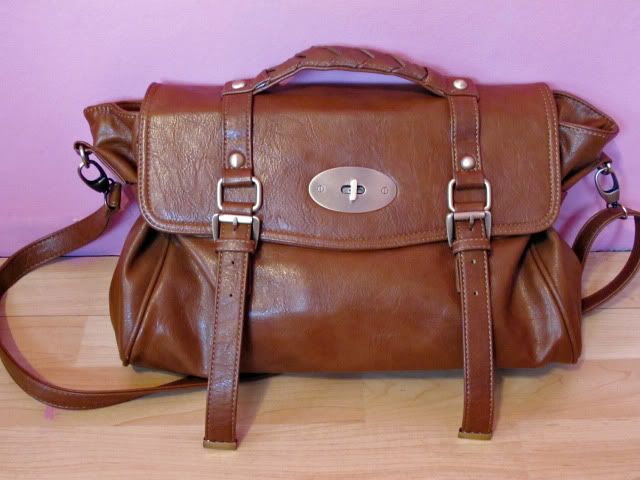 Say hello to my new baby! Sure it's not a real
Mulberry Alexa
, but it's practically the next best thing! And when you think about the £891 price difference, even better! I also saw a bag by
Red Herring
earlier on in the day for an extra £17, and now I'm so glad I waited because this is perfect! It was a little strange walking past the Mulberry section in Selfridges with it, but still!
As for where it's from, I found it in a little shop in town. The label says "M&E Paris" - I've tried Googling, and the best I came up with was
this site
but I don't think that's right! Basically if you have any of those kinds of stores that does clothes in the style of Topshop etc. you will probably be able to find one of these. If I was made of money I'd happily buy all of their stock and sell them on here but sadly I'm not!
This link
has store info if anyone wanted it, I think they had a store in
Lakeside
too but I'm not sure if it's still there. Plus you can get similar on
eBay
!
I'm actually writing an essay on
commodity fetishism
at the moment and I've decided to base it on fashion and a lot of it on the Mulberry Alexa. I'm planning on making a little questionnaire and asking you all to fill one out for me (if you'd like of course) but just for now, what are your views on 'replica' bags/clothes/shoes? Sensible or tacky? I might have to include these posts by
Victoria
and
Lily
in my research too! I think as long as it doesn't have a fake label, it's kind of okay..?