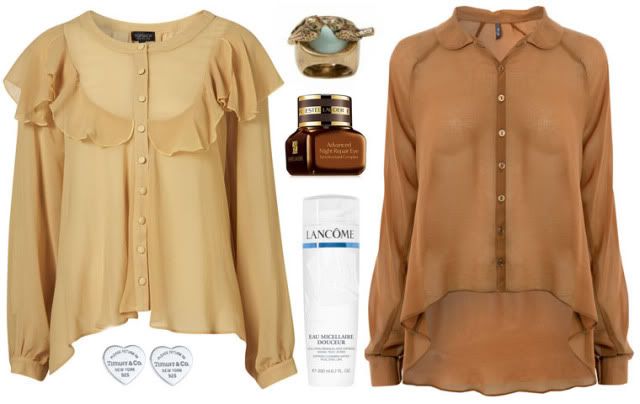 1, 2, 3, 4, 5, 6
Kind of a 'what I wish I had to take to Paris with me next week' type post, I am a typical poor student at the moment so can only lust after certain luxuries!
001. I bought
this
blouse maybe a week ago, planning to wear it for the
Witch event
but I ended up wearing something else. Then I spot this blouse on the website and want it. Not sure whether to save up for this or just exchange the one I bought first? I like them both. WAH.
002. I already have these, but they broke when I left them at my other (obviously not better!) half's house. He said he's going to either repair them or buy me another pair, I just wish they'd never broken and he'd hurry up and do it! Also it's probably weird that I don't wear silver anywhere except my ears..?
003. Not sure if I can get my head around the cuteness of this ring. Currently loving mint green/turquoise/teal and I don't see enough of that colour with gold jewellery, it seems to all be silver. Here I go again with my pickiness when it comes to metals!
004. I've been told
this
is good by a friend, I'm having problems with the skin around my eyes lately. Well to be honest it always looks so unhealthy and dark and tired (like me minus the dark part - need to tan again!) so if anyone knows any miracle products that really quench the skin's thirst and brighten the area up a bit, let me know. I'm currently using
Clinique All About Eyes Rich
which is nice but it doesn't really do much considering it costs over £20!
005. I bought this makeup remover a couple of years ago in a 'buy three products, get a gift and a million loyalty card points' type offer and I really liked it. It's practically water so it's really gentle, and leaves your skin really clean and fresh! I would have liked to take it on my trip as it's just so easy and I wouldn't really have to take an extra cleanser, but oh well (sniff!).
006. Yes, another blouse. Spotted this on the new arrivals section on the website but sadly couldn't find it in my local store. The hunt continues! Totally jealous of
Lucy
for tracking one down. I did find a super bargainous pair of boots to show you all soon though!