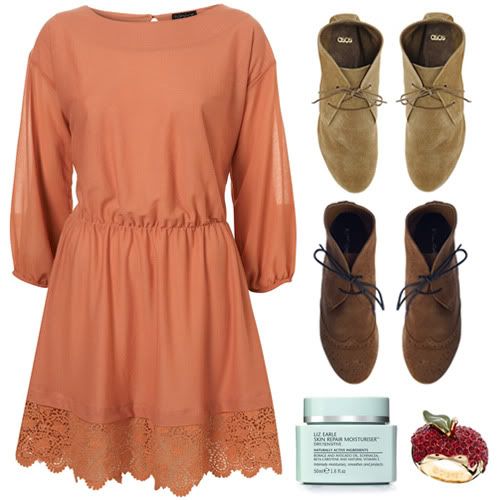 1, 2, 3, 4, 5
001. I did say a couple of posts ago that I'm not wasting money on clothes all the time anymore, and being away for a week has definitely helped curb my spending! On the way home though I was reading blogs and saw
Lily's post
featuring this dress. I did see it on the website a little while ago but it looks so much nicer in 'real life'. Want.
002&3: My
new boots
kill my feet, I may be selling them as I've only worn them a couple of times, anyone interested? I do want to get a size bigger in them but if I can't then I'd quite like some desert boots. I find it so hard to get the riding boot style that I love because I have thick legs, so the next best thing is an ankle boot. I'm really picky because short boots need to still show my ankle a little bit or I just look like a complete chunk!
004. Had a lovely little package from the wonderful people at
Liz Earle
waiting for me on my bed when I got home from my trip. From what I can tell I'm really going to love these products and
Zoe
said that the moisturiser was amazing. Will order when my Clinique is gone, hope it's good.
005. Most beautiful ring ever? I think so.. Disney Couture strikes again and pulls at my heart strings. I feel it is definitely appropriate for me to buy this as I restrained from getting more than one thing at Disneyland Paris yesterday! Yep, totally justified.