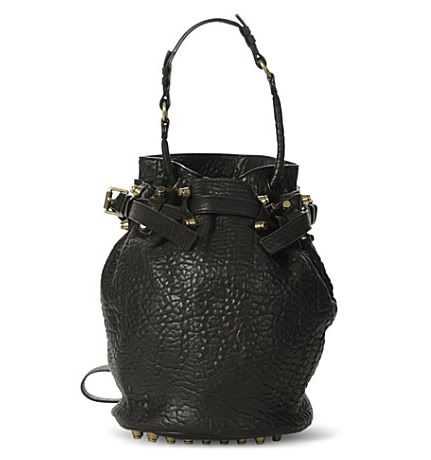 alexander wang diego bucket bag
Isn't she just perfect? The
Rocco
bag has been uber popular in the blogosphere but I kind of think it's a bit done now. That and I don't always have an arm free to hold a bag! The Diego, however, can be held like that or slung over your shoulder, and is so pretty! Sure it's not the conventional type of pretty, but I like it lots. Obviously I'm not loving the £695 price tag, so I've been adding rip-offs to my watch list on
eBay
for literally months on end. I've also tried to track down some similar styles on the high street and hoped something would catch my eye. Here are a few picks:
L-R, top-bottom: zara, urban outfitters, topshop, river island, topshop, H&M
My favourite out of the lot would have to be the
Zara
offering (click the link to see all the little diamonds! So cutes!) but I feel I would probably only want to use that for special occasions and so on, whereas the Diego 'style' one is more suitable for daytime too? I feel like my perfect ones always end up being the most pricey as well (looking at you
UO
..) but hey what can you do! I was thinking about getting the
H&M
one and customising it myself but I saw it in store and it was really plastic looking! Probably going to end up getting the eBay version and maybe getting the Zara one for my birthday or something. What do you think? Are bucket bags for you or not so much?