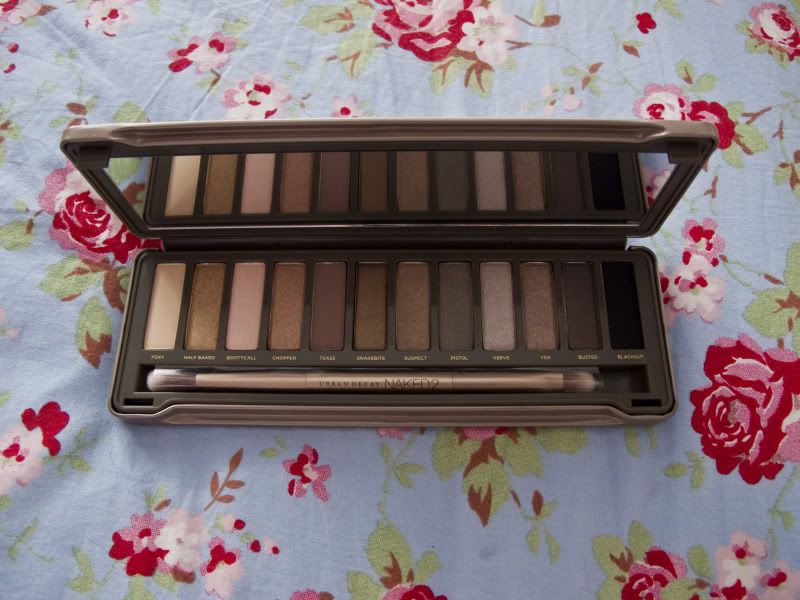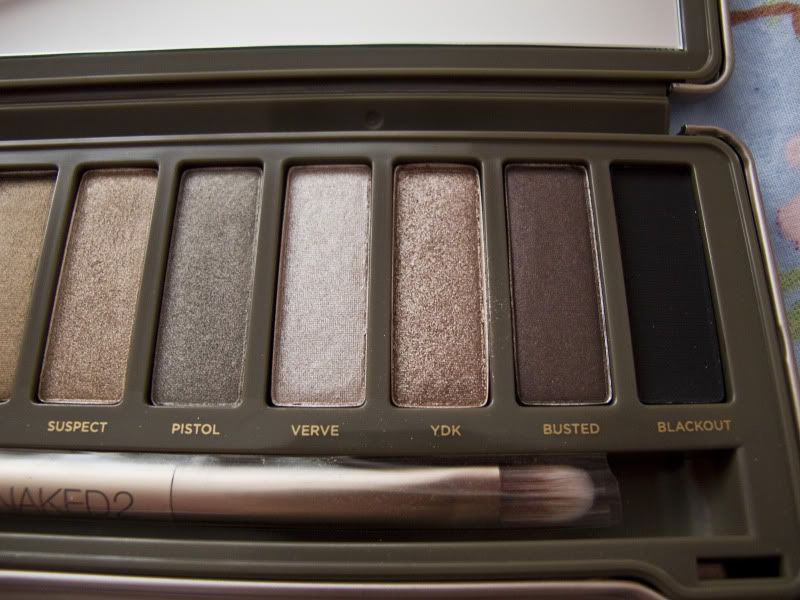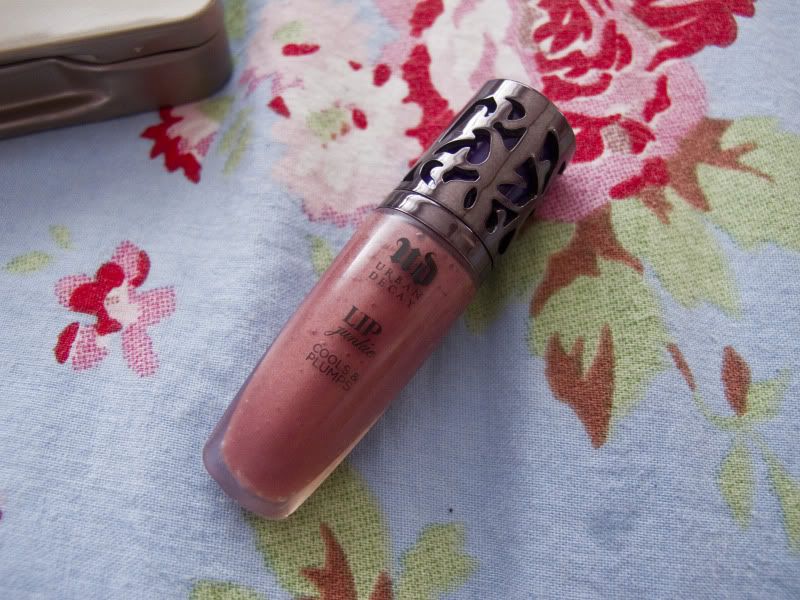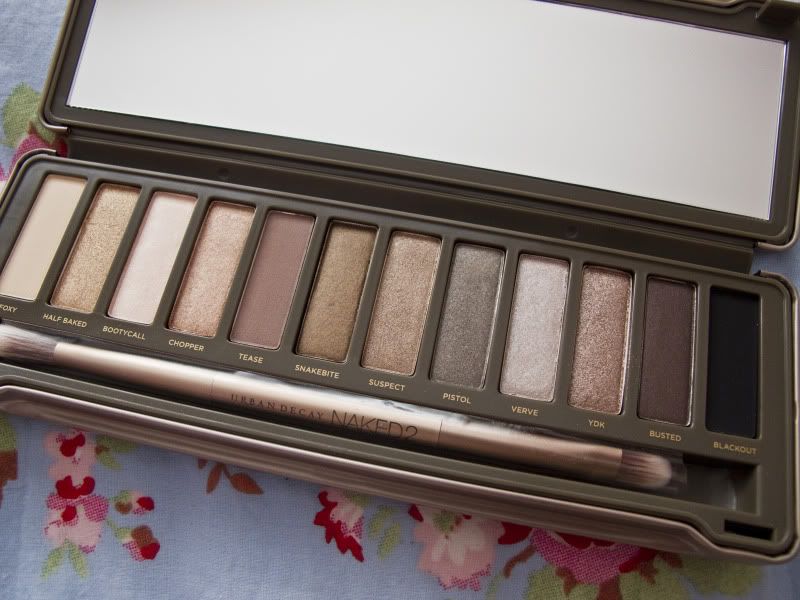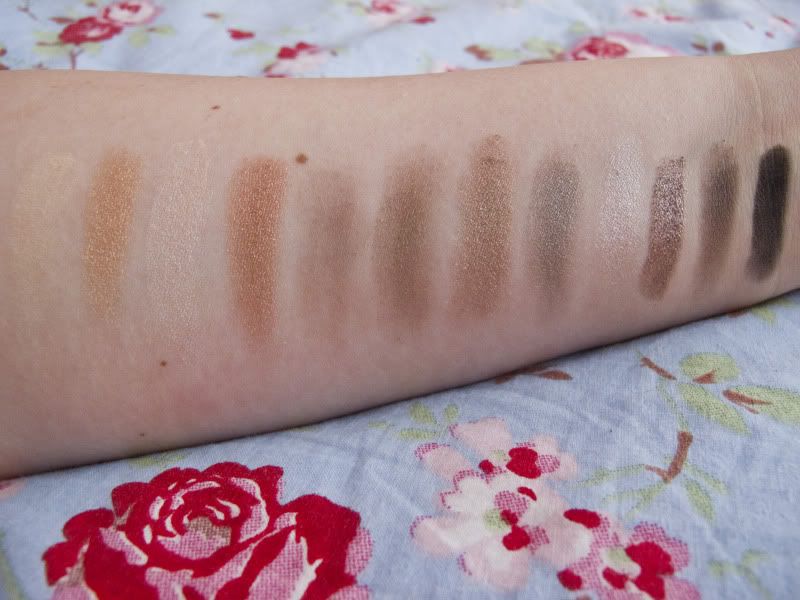 urban decay naked2 palette: debenhams (£36)
So here it is! The eyeshadows everyone and their cat has been waiting for - the
Urban Decay
Naked2 palette. The launch caused a lot of fuss and confusion on the
Debenhams Beauty Club Facebook page
and then later on
Twitter
which was quite funny (
#prayforkelly
ended up trending #1 in the UK, I was the top tweet at one point, sulksulksulk).
I don't have the oh-so-popular
first Naked palette
, I don't know what made me not buy it but I've always liked the look of it. I guess it was the packaging, I've seen various reviews mentioning that it attracts all kinds of fluff so was a bit put off. When the new one was announced though I couldn't resist and have been eagerly awaiting its release.
My first impressions upon arrival were how lovely and sleek the packaging is. Portable with a lovely big mirror, and closes properly unlike the first palette which can apparently come open in transit. At the same time the Naked2 is easy to open so no wrestling with the tin! Also inside there is a two-ended brush which isn't the softest I've ever felt but it's cruelty free which is always a good thing! I don't think it would be my first choice of brush though.
Now onto the main attraction - the shades! The colours (from left to right, obviously) are as follows: Foxy (cream bisque with matte finish), Half Baked (golden-bronze with shimmering finish), Bootycall (shimmering cork), Chopper (copper shimmer with silver microglitter), Tease (creamy pale brown with matte finish), Snakebite (dark bronze shimmer with metallic base), Suspect (pale golden beige with shimmering finish), Pistol (light gray-brown with shimmering finish), Verve (oyster with shimmering finish), YDK (cool bronze shimmer with metallic base), Busted (deep brown with shimmering finish) and last but not least, Blackout (blackest black with matte finish).
I think I have my favourites already, which are Bootycall - an amazing shimmery base colour, and a brand new shade, Chopper - lovely shimmery copper, the type of shade I am always drawn to, and YDK - a shimmery golden bronze. It's nice to have a black in there too for on the go to use as an eyeliner or just define the roots of your lashes a bit.
I found it quite strange that the new palette comes with a lip product rather than a miniature
Primer Potion
like the old palette. Then again the shade name is 'Naked' so it fits. It's a
Lip Junkie
gloss which is thick but not sticky, and 'cools and plumps' while also tasting like wedding mints for fresh breath - don't mind if I do!
Will you be getting the
Naked2 palette
? If not, why not? Do you have the first one? I'd love to hear your thoughts!