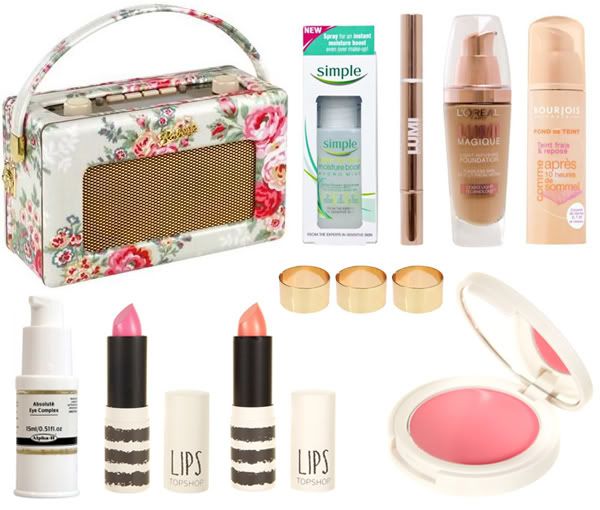 1, 2, 3, 4, 5, 6, 7, 8, 9, 10
001. Have wanted one of these for the longest time! They are rather expensive which is why I'm torn between getting a plain
pink
/
blue
/
green
one but then I'll probably get bored of the colour. Decisions decisions!
002. Saw this on
Jen's blog
and it seems like just the thing I need lately! My skin seems to dry out throughout the day and makes my foundation look a bit rubbish. So hopefully this will do the trick!
003. Really wish I had bought this last week when the 3 for 2 deal was still on at Boots. I picked it up a few times but it's really hard for me to find a concealer I like, but
Kate's review
has swayed me!
004. Heard a lot of lovely things about the matching foundation too, I have enough foundations as it is but I'm still curious! I love the rose gold pump too, I'm such a magpie.
005.
Gem
reminded me of this product the other day. I used to use it in school! The packaging isn't up to much but I remember really liking it so would like to try it again and see how it compares now.
006. Typical, make an order and the next day these come in! I've been after some plain thick band rings for a while, for outfits where a lot is going on but you still need a bit of jewellery to pull it together. I think these look really chic!
007. Spotted this on
Meg's blog
(lot of blogger influence this week, as ever!) and as I need all the help I can get with my under eye darkness I want to give this a go. Any eye cream recommendations?
008&9. I've never tried Topshop lipsticks before, but I spotted these shades on the new in section and they look lovely.
010. Another new shade, I have all the other cream blushes so it's only natural for me to bring them home a new sibling! I don't really have many pink blushes actually so I hope this is nice in the flesh!
What have you got your eye on lately? Would you recommend anything above or warn against it?
PS. Have already bought a couple of these.. oops! Will be posting about them hopefully next week!