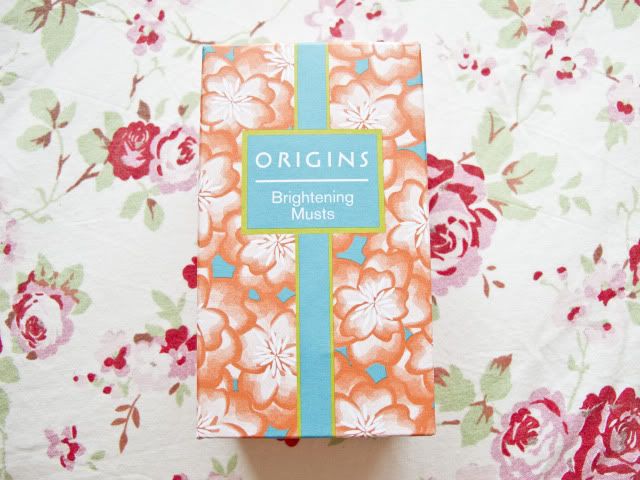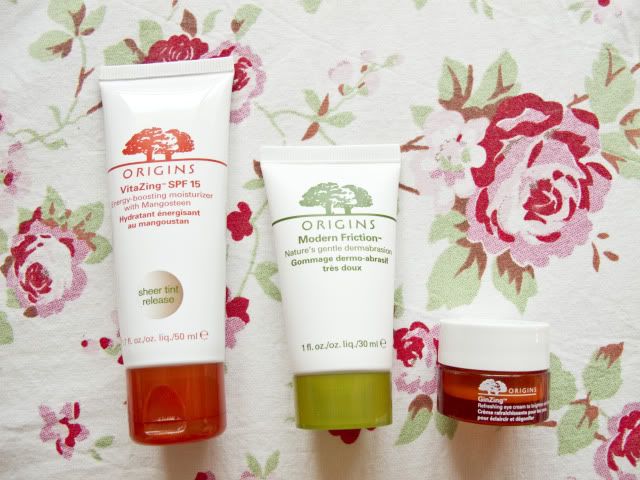 Origins Brightening Musts set: £26
Browsing the Origins counters in local department stores seem to be a regular activity for me on my lunch breaks, and a few months ago I was looking to buy a new eye cream when the sales assistant recommended this set so I could try out a couple of other products along with a miniature version of the eye cream for a few pounds more.
VitaZing™
is an 'energy boosting' moisturiser with a sheer tint release which means it comes out a greyish white with granules that adapt to your skin tone as you apply it. I do find that the colour looks better when I have fake tan so might not be suitable for the palest of skins. I don't know if it's just placebo effect or not but I do find that this moisturiser wakes my skin up and is wearable on its own or with foundation for extra coverage.
Modern Friction
is called 'nature's gental dermabrasion' and reminds me a little in texture of
Lush's Ocean Salt
. I feel it works deeper than a lot of exfoliators as my skin feels quite warm and flushed after using it, but that could also mean it's probably too harsh for my skin so I personally only use it every couple of weeks when my skin is feeling really sluggish. When they say to keep it away from your eyes it's for a good reason- it kills so be warned!
GinZing™
is an eye cream packed with 'Caffeine from Coffee bean, Panax Ginseng, Magnolia Extract and natural optic brighteners' to wake up, refresh and add radiance to tired eyes. This product basically seems to me like an eye cream mixed with a liquid highlighter (like
Benefit High Beam
) and I need a LOT of help with brightening the under eye area so this is just another step in many for me. I will keep using it though as concealer seems to apply well after I've used this on the skin too. The product also claims to improve microcirculation and strengthen capillaries so I will persevere!
Overall I would recommend this set if you're looking towards trying this brand out, or if not there are
different ones
available which all seem excellent value. Have you ever used anything from Origins? What do you think?