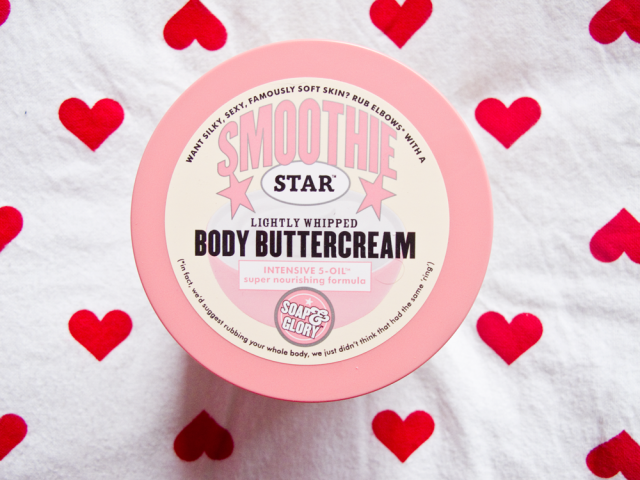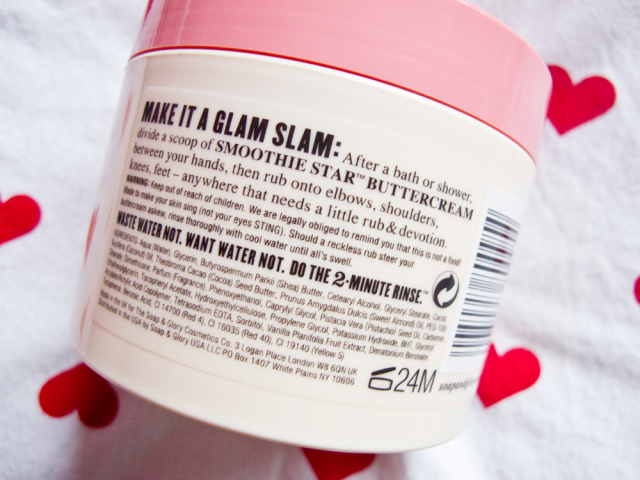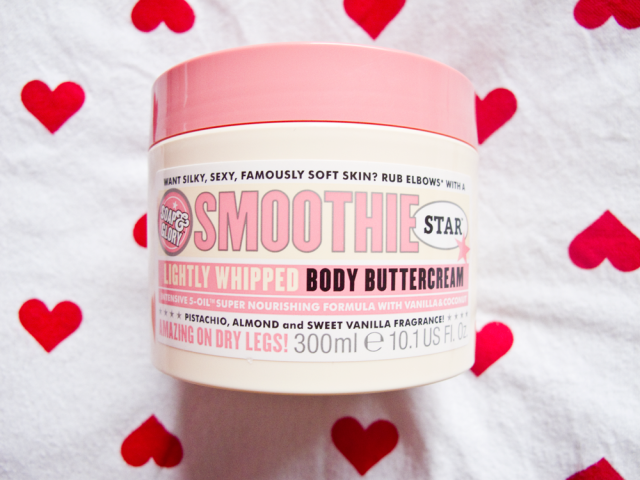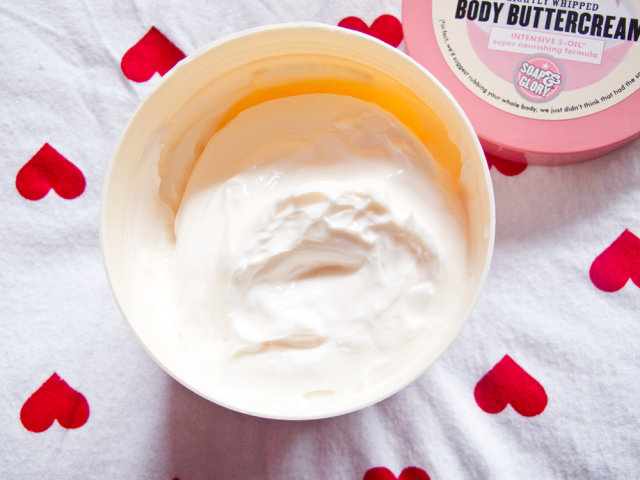 Soap & Glory Smoothie Star Body Buttercream: £10.50
Soap & Glory's
Smoothie Star
is a thick body butter to intensely moisturise your skin with rich ingredients such as pistachio oil, almond oil, shea butter, cocoa butter and coconut oil. As a sufferer of dry skin which only gets worse in the colder months, I can't really go without moisturising or my skin really suffers and ends up feeling really tight and uncomfortable. This product smells absolutely incredible, with a scent of almond, sweet vanilla and pistachio which might not be to everyone's taste as it's quite 'foody' but I like this kind of fragrance, especially for winter (I think it might be a bit sickly when it's hot). Even though the scent does pack a punch I don't think it's too overpowering, I get the occasional whiff of it now and again throughout the day after it's settled down but maybe other people can smell it better like with most smells. Although the product is very thick I find it sinks into the skin beautifully and you can get dressed sooner than I imagined after applying. I even applied a second time the other day and didn't find my skin to be sticky afterwards! I would possibly go as far to say this is my favourite body moisturiser ever!
I love the cutesy packaging of the whole
Soap & Glory
range so not only are the products a joy to use, they look pretty on your dresser/in your bathroom cabinet/on your shelf - delete as applicable! I'd totally recommend this product if you have dry skin, and even if you don't as it sinks in like a dream (although there is a
lighter option available
) - but I'd have a quick sniff of of it in store if you can as I can guess the scent might be a bit too sweet for some.
Soap & Glory
is available in
Boots
and is currently 3 for 2! Do you have a favourite
S&G
product?