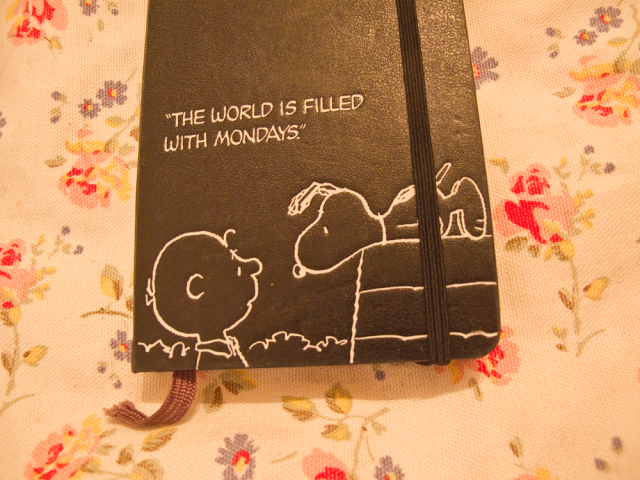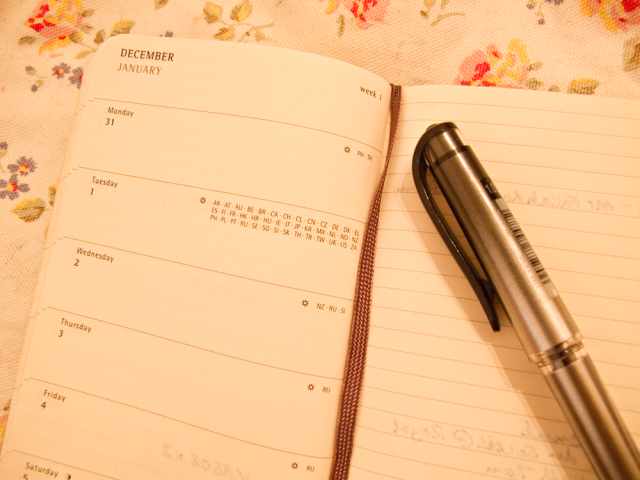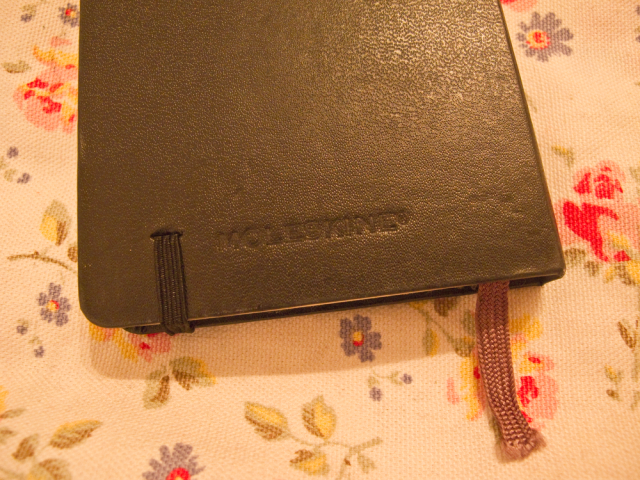 2013 Peanuts Moleskine diary: £7.15
I can't believe a whole new year is already upon us. It feels like I closed my eyes for a second, and then when they opened a massive twelve months had disappeared before me. Here's how I'm going to make 2013 my best year yet:
keep saying "yes"
After a four-year relationship eventually came to its sorry end around halfway through 2012, I realised I was trying way too hard holding onto things that didn't make me happy. I decided I wasn't going to bother sacrificing my happiness for things that didn't
truly
matter to me. I'd fallen out of love with my uni course well before this and finally sucked it up and left after admitting to myself I wasn't going to get anywhere fast with a severe lack of motivation. The relief I had after this is like nothing I'd ever felt before. I also let myself be 'out there' for the first time basically ever, went on a couple of dates and unleashed my
Samantha
(previously suffocated by my
Charlotte
).. if you get my drift! Life really is too short to say no and be wary all the time. I took risks instead of doing the same old, and they've ALL paid off. Seriously! I got to
interview Keith Lemon
, attended the
Cosmo Ultimate Women of the Year Awards
and saw
Ellie Goulding
and
Rihanna
live to name but a few things! I'm also in a much healthier, much happier relationship and it's all down to me not being scared to do new things (so to speak). My #1 advice to anyone in a rut: SAY YES MORE.
De-clutter
I say this all the time but I am one serious hoarder. To put it simply I've got WAY too much stuff. Just way too much of it. It goes without saying because I'm a typical girl that loves shopping and has too many shoes (there's my
Carrie
!) but when you have a huge wardrobe that's bursting at the seams with boxes and garments it really is time to streamline and this year I HAVE to mean that. I'll be regularly updating my
blog sale
and giving stuff to charity to make space and feel better about my neglected stuff. As they say.. a tidy house (room) is a tidy mind!
Organise
I actually got this diary back in August - it's an 18 month planner but seeing as it's half price now I figured some of you might like it so it's linked in the caption. Having a little handbag sized book where I can write jot down things like upcoming events, plans and deliveries really helps clear my head and leaves me feeling more prepared. I'm not sure how I coped before, phone apps can be handy but I just prefer this method.
Get healthy
Another repeat resolution that doesn't always work out - events and seeing friends usually involves food/cocktails and I'm just too polite to say no most of the time. Generally speaking I don't tend to overdo it so I'm just going to concentrate on generic stuff like getting my 5 a day, cutting down on caffeine (as I've JUST discovered I actually like coffee), drinking more water and getting more sleep. Another big thing is getting more exercise and possibly joining a gym; everyone's a newbie at some point, so it's time to stop worrying about what others think
dans le gymnase
.
Believe in myself
I'm a humble person. Even saying something like that about myself makes me feel like I'm blowing my own trumpet. More often than not, I feel the need to put myself down, or downplay my achievements. I mean, I won a
Cosmo Blog Award
! There's nothing wrong with being proud of yourself and I'm incredibly happy with my success so far.
Stop wasting money
Goes hand in hand with the 'too much stuff' thing, and I've actually been doing this more lately. I'll make sure I don't have anything like it already, think about it rather than just impulse buy and return it if I don't use or wear it within a fortnight. Apart from random extravagant splurges, I think I'm doing pretty well already.
Buy a Mulberry bag
Possibly not the best thing to be included with a list where 'stop wasting money' is one of the other points, but I fully believe it's a good thing to be able to treat yourself now and again. I'd much rather have one expensive, extravagant bag that I'd use and care for rather than dozens of cheaper throwaway purchases. Don't get me wrong, I'm not a label snob in the slightest, but along with the de-clutter rule I'd love to keep my spending to things I really want and that I know I won't get bored of. I'm 99% decided on the
Del Rey in Deer Brown
(still love the Alexa but it might be a bit 'done' now?) or an SS13 flower plaque, chain handle offering you can see
here
which isn't out yet!
Read more books
I love books. The idea of an e-reader doesn't appeal to me as much of the smell of a new (or old - inner
Carrie
strikes again) book. So much so that I really want
this candle
! I can't remember the last time I actually read a book as everything is so digitalised now, but I'm really looking forward to getting back into immersing myself into some good literature in its traditional medium. Please share your recommendations, new or old!
Make a few small changes to the blog
My blog design has been pretty consistent since it launched, so this probably won't be altered too much but there are a few features I've been meaning to add as well as starting a YouTube channel (need to get my new camera first!) so what better time to do it than along with a fresh new year. Watch this space, I can't wait to get started! I'm also going to finally get some business cards done, thinking of going with
MOO
, any other suggestions?
Travel
I'm a tiny fish in a gargantuan pond and there's so much of the planet I'd love to see. Not particularly setting any goals for 2013 but I've got a couple of city breaks in the pipeline and I'd love to go on holiday this year as otherwise it'll be my third British summer in a row and that just won't do. I want my memories to be from all over the globe!
Cook
I'd love to experiment in the kitchen more, so I think it's high time I finally got around to getting
this book
(who doesn't love the super babe that is Nigella Lawson?) and take a leaf out of
Rose
's book and recreate some of her
delicious looking recipes
- particularly the
homemade gyros
,
slutty brownies
&
manwiches
.
Learn to drive
Last but not least I've been putting this one off for half a decade now and I need to get on the road! It's no a necessity considering I'm close to central London where events and stuff are, but it'd be great to be able to not have to use public transport and for hiring a car on holiday and so on. More reason to stop spending frivolously I guess!
So there we are! I'm shocked with how long this post has turned out be, I hope it hasn't been too much of a bore and it's maybe given you some slight inspiration? Do you have any resolutions or goals for 2013?