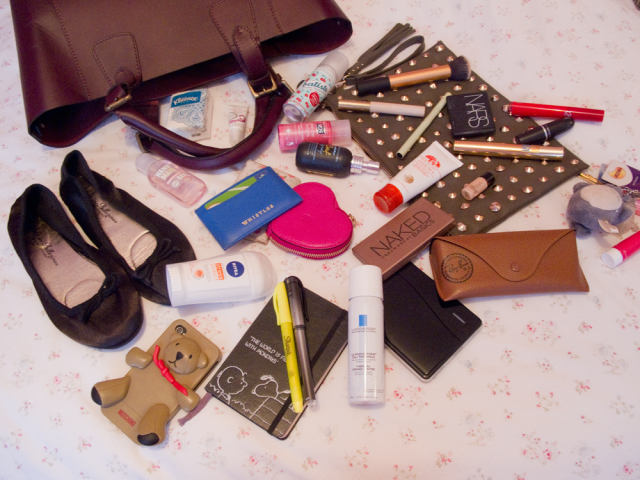 Yesterday had a very different three word phrase.. but today it won't be roses, chocolates and champagne sending hearts all a flutter. London Fashion Week is here already, and here's everything I'll be lugging around with me for the AW13 shows.
Inside my huge new
tote bag
* is a host of simple must-haves as well as some not so sensible products - I usually carry everything but the kitchen sink around with me, so even though this looks like a lot it's actually a streamlined version of my normal bag. No wonder my back always hurts by the end of the day!
Let's start with the basics: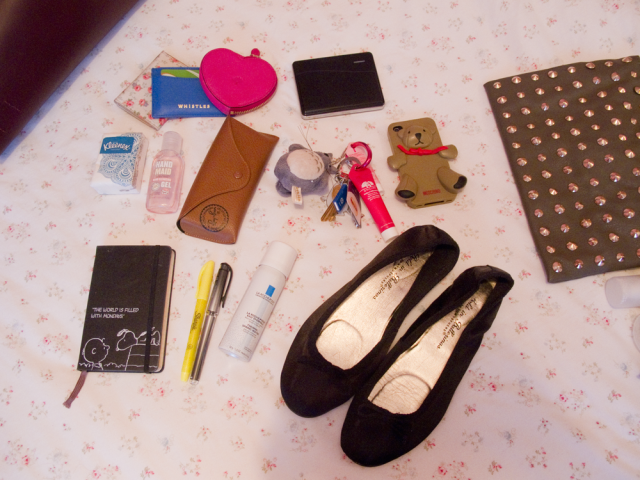 Oyster card holder (by
Cath Kidston
), my
Whistles card holder
and
Mulberry coin purse
so I don't have to have my big wallet with me, a
portable charger
as one full charge for an iPhone simply cannot put up with almost constant checking of emails, Instagramming and Tweeting, sunglasses in case of watering eyes after all the bright lights (or.. you know.. SUN), tissues, hand gel, phone, keys, diary & writing tools, water spray to keep cool and some simple flats if my feet are killing me. These silky ballerina pumps were only £2 from Primark sale, ridiculous considering they look so chic.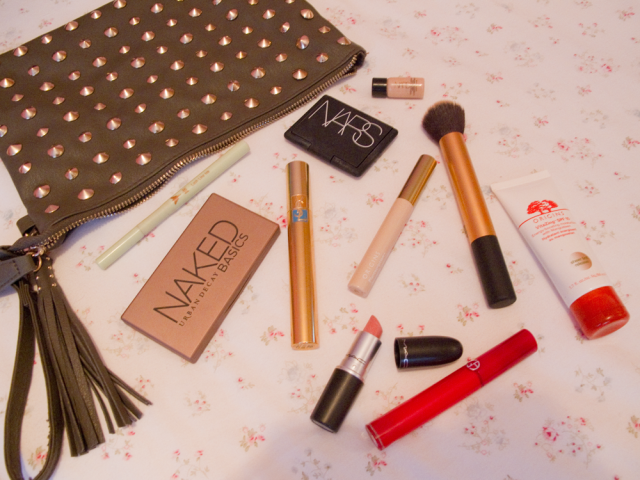 My makeup is definitely hardly anything compared to what I usually feel safe taking out with me. I've kept it simple with the
Origins Vita Zing
tinted moisturiser to perk the skin up and act as a base, along with a little foundation sample should I need it as well as concealer. For the eyes I'll be wearing fuss-free neutrals, a slick of liquid liner and have got my
favourite waterproof mascara
to hand as it lasts all day and layers over other products well. I've narrowed my lip colour options down to just 2; a pinky nude in the form of
MAC Hue
and if I fancy something a little more vibrant, I'll stick with the
Giorgio Armani Lip Maestro in #401
for its wear time and the compliments I always receive when I wear it. Last but not least, I decided on a cream blush rather than a powder to keep my skin looking fresh and dewy, without having to bring a brush too! The clutch I'm using as a home for all the products is from Primark and was around £6 I think (I got it before Christmas).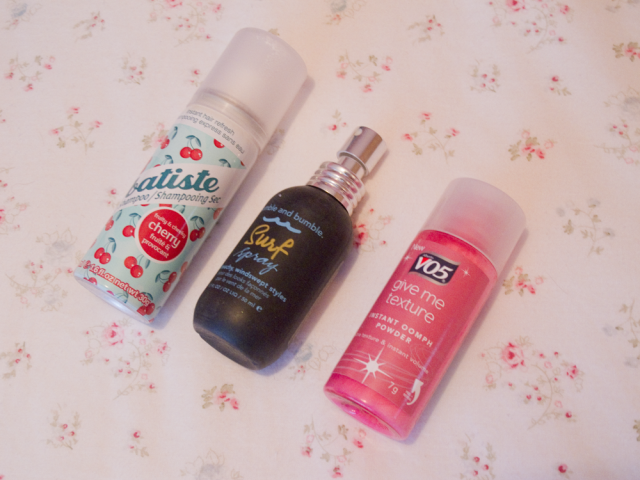 When it comes to hair I don't really do much to it, apart from use some dry shampoo if I need to (I like
Batiste Cherry
at the moment), 'jujj' up the roots with the
VO5 Give Me Texture Instant Oomph Powder
and possibly add some tousled definition towards the ends with the
Bumble & bumble Surf Spray
. All three are miniature versions to save space
and
vital energy!
I'll also have some trusty deodorant and lip balm with me (and of course my camera!) but I think those are all pretty standard. The next few days look like they're going to be pretty hectic so at least I kind of have myself sorted!
Are you attending LFW this season? Anything I've missed out here that you'd consider a Fashion Week must?