I rarely have the time or patience for breakfast, despite the fact that it's probably my favourite meal of the day. You can practically have dessert as a meal and get away with it. Perfect for someone with a sweet tooth like me! The folks over at Alpro recently introduced me to the #deskfest challenge which is doing the rounds on all the social media platforms at the moment. The premise is basically that you share a picture of your breakfast on the likes of Twitter, Instagram, Pinterest and so on and on the
competition page
. One lucky winner gets to jet off to New York for a weekend so it's well worth entering as you'd most likely be eating anyway. I was sent a pack of goodies (*) to try out, including Alpro's
Soya Pouring Yoghurt
,
Almond Milk
and
Hazelnut Milk
. Dairy often makes my throat feel a bit clogged up so I try to avoid it - especially in the mornings - so I was keen to see how the dairy-free alternatives fared. Here's what I made!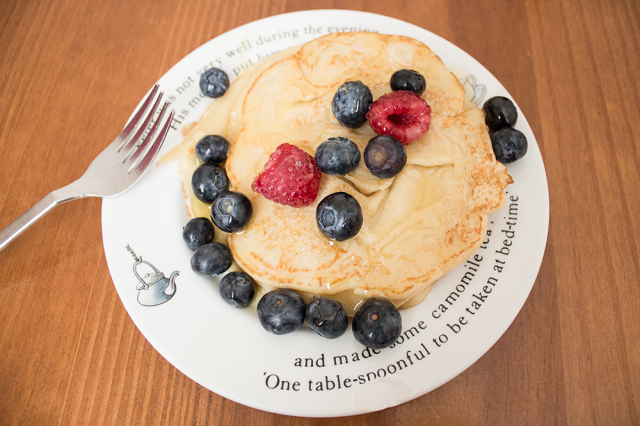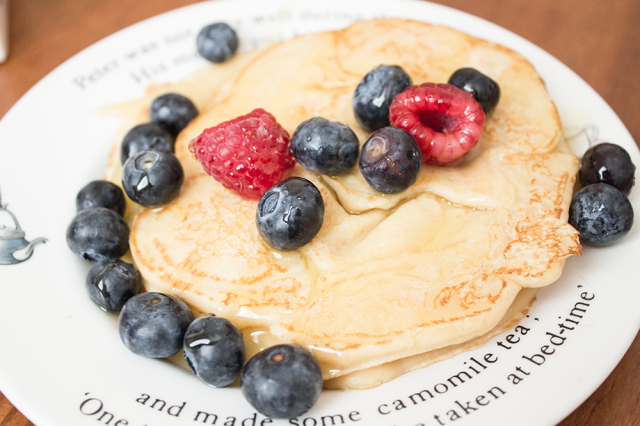 Soya Pancakes with Blueberries, Raspberries & Syrup
I am one of
those
people that asks for soya instead of regular milk in the queue at Starbs, however the plain yoghurt was not to my taste at all (I tried it first with oats and fruit). After some brief head-scratching I thought I could put this to use in something more food-y so the taste wouldn't be so obvious. What's the most perfect of breakfast foods? PANCAKES!
Makes 4 small (but filling!) pancakes:
65g plain flour
1/2 tbsp. sugar
235ml pouring yogurt
1 tbsp. melted butter
pinch of salt
1 egg
oil for cooking
Mix together the flour, sugar and salt in a medium bowl. Whisk the yogurt and egg and stir into the flour mixture, followed by the same process with the melted butter. Mix until a semi-thick, creamy batter is formed with no lumps.
Heat a little oil in a frying pan and add a dollop in, flattening with your spoon. Each side only needs about a minute or two, just go by eye and when it's golden brown, flip and wait again for the other side. Easy peasy!
I grabbed a handful of berries along with a
un
healthy dose of syrup. These were so simple to make but SO GOOD. Fluffy and thick but not dense at all whilst still being filling. Definitely prefer making pancakes with yogurt to just milk! Bliss.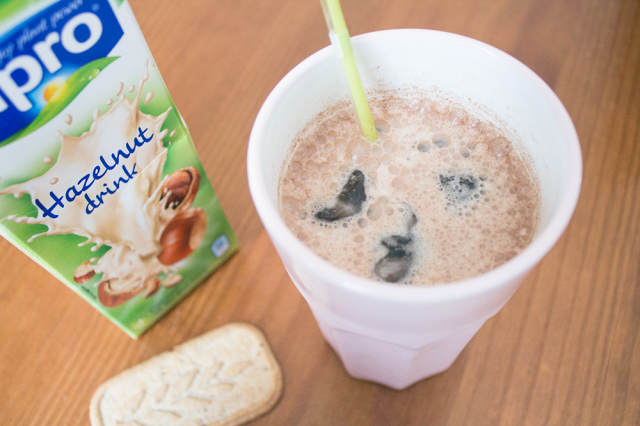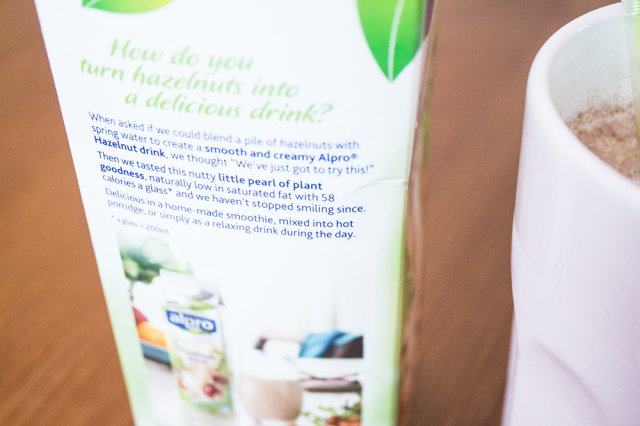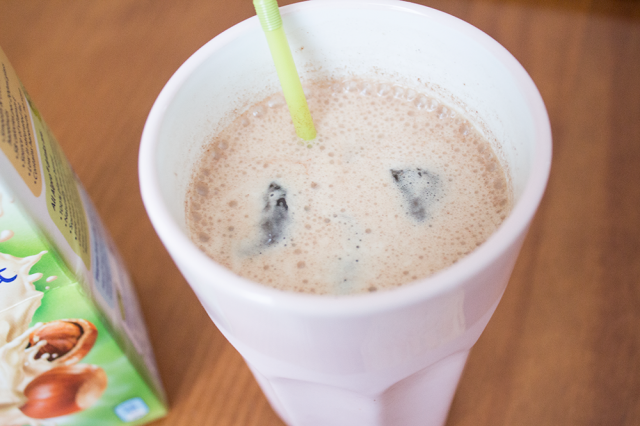 Hazelnut Frappuccino
This one was a bit of a last-minute deal. I couldn't decide between a hot or cold drink so I decided to try and recreate one of my favourite on-the-go beverages at home- the frappuccino. In retrospect I could have made this a lot more luxurious but it was just a bit of an experiment. All I did was shove a whole load of ice in the blender, along with hazelnut milk, coffee and a spoonful of cocoa powder. It was.. okaaaay and hit the spot as I drank it quickly but a creamier version would have been nicer to enjoy slowly. Perhaps a smoothie-frapp hybrid with a banana and some of the yogurt? Always a next time!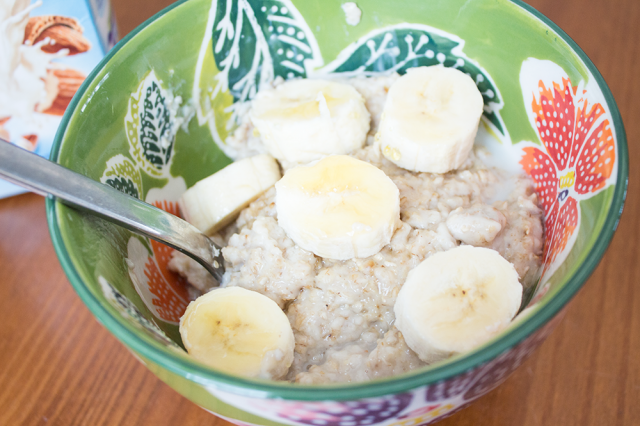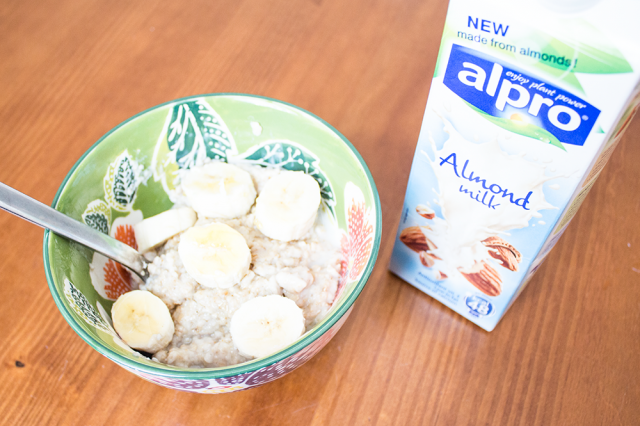 Almond Porridge with Bananas and Syrup
Last up is an oldie but a goodie- the lowly bowl of porridge. I do tend to overdo it with the sugary extras when I have porridge so I wanted to try it using almond milk instead of the regular variation. It worked a treat and was a lot sweeter which is great as I used next to no syrup and it tasted amazing. A chopped up banana along with it and I was full for hours and hours. I also had it in my tea in place of dairy and I liked it a lot more than I expected to- it smells more than it tastes and it'll help me wean myself off sugar in hot drinks. I realise this particular almond milk comes with sweetener, but they do have an unsweetened option too. I think I prefer this milk to the hazelnut version too, it's sweeter and possibly more versatile.
So there we have it! Nothing too adventurous but it's a step forward for me as I tend to skip breakfast a lot. This little challenge has certainly helped me making breakfast more and trying new things! The competition itself is taking entries for another 24 hours so if you'd like to be in with a chance I suggest you upload your #deskfest breakfast at some point tomorrow! Have you ever tried any Alpro dairy-free alternatives? What's your top choice for breakfast?