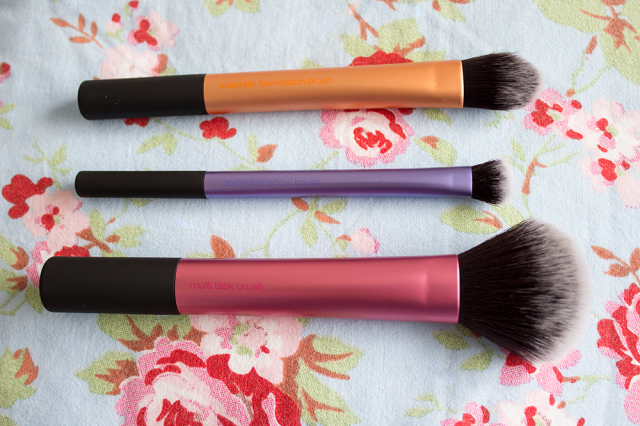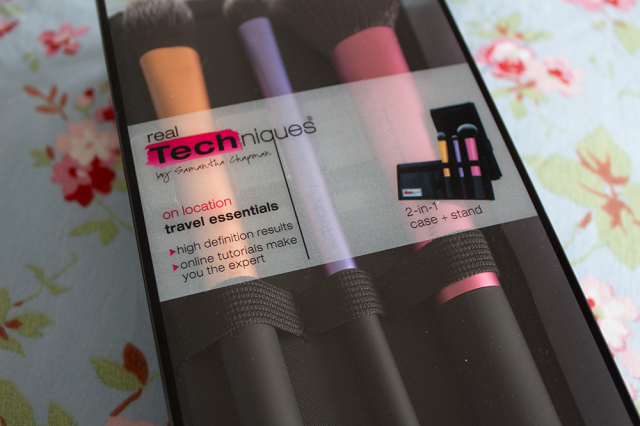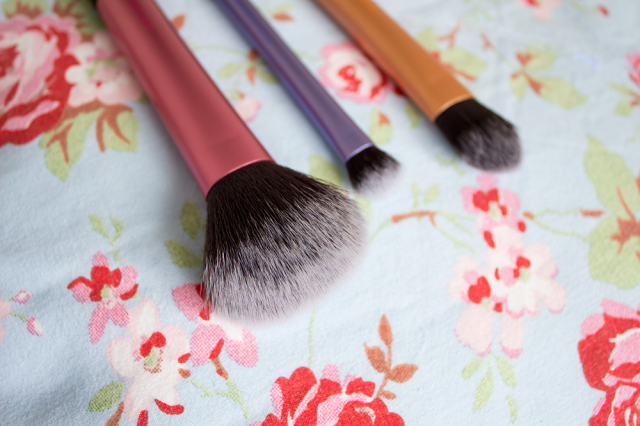 Real Techniques Travel Essentials Kit: £20.99*
As a massive fan of the Real Techniques brush range, I'm surprised it's taken me so long to add the
Travel Essentials Kit
to my collection. This seems to be the only kit that isn't available in the likes of Boots though, which is where I've bought most of mine. I'm guessing, for the same reason, that this is why I haven't heard much about this kit either. Without further ado..
Consisting of three full size brushes, this kit promises to be everything you need when on the go. I'd probably agree with this if I didn't know of the magic Buffing Brush from the
Core Collection
, but I just could not live without that now. The Essential Foundation Brush (golden handle) is quite small with a tapered end. I've been finding this useful for concealer application under the eyes before buffing into the skin lightly. I'd say this would be good for touchups, but personally I don't like to 'paint' on my foundation as I much prefer to use the buffing method. Next up is the purple-handled Domed Shadow Brush; making easy work out of any eyeshadow application, I usually pat a lighter and a darker shade and blend it all together softly with this brush. A no-brainer. Lastly is the Multi-Task Brush which has to be the standout in the kit for me- and not just because it's pink! A lovely size to apply blush, powder or bronzer.. perfectly suited to application on the apples of the cheeks.
All Real Techniques brushes are 100% cruelty free, made of super soft synthetic bristles. I've never experienced any of my brushes shedding and I've been using them for well over a year now. They're pretty much the only brushes I use and I couldn't recommend them enough. In terms of needing this kit.. well, if you have the Core Collection you might not feel the need to as you can always buy the
Shading Brush
for eyes and the
Blush Brush
for the cheeks/face. I do really like the brushes in this kit though, and considering you could just about get some of MAC's brushes for the price of all three brushes here, it's incredible value for money. It's love! What do you think of Real Techniques brushes?