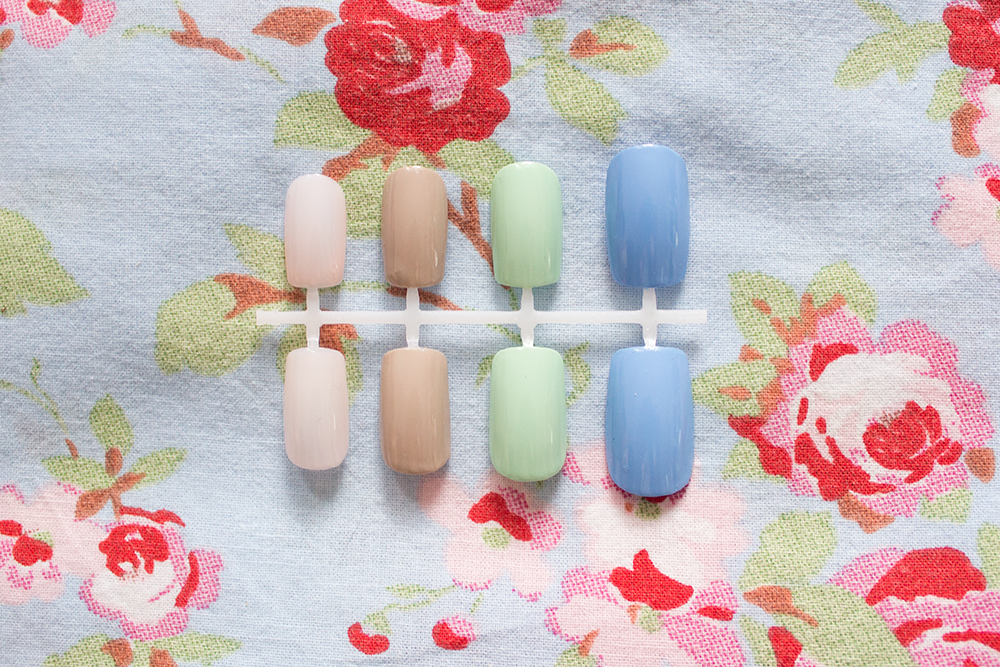 Bourjois Rendez-vous á Paris Nail Collection: £5.99 each*
L-R: Oh So Rose, BCBeigé, Amande Défilé & Adora-Bleu
Another amazing little launch from Bourjois (see my recent review of their new Rouge Edition Lipstick collection
here
)! The Rendez-vous á Paris collection consists of eight
So Laque Glossy Nail Enamel
polishes in total, four of which I have to show you today. The formula has a high-shine gloss finish which claims to last for up to 10 days.
The application of these polishes is easy peasy thanks to the thin brush, and the polishes seem to have an average drying time. As they have such a glossy finish to them I've been wearing them without a top coat. I love all of the shades I've been trying out- I'm sure the mint green shade,
Amande Défilé
is going to be a surefire sellout but I'm an equally big fan of the beautiful sky blue hue
Adora-Bleu
and pretty pale greige
BCBeigé
. All three are perfectly opaque in two coats, and unfortunately the same can't be said for the polish I've been sporting this week,
Oh So Rose
. What I do like about this one, however, is that you can wear a coat or two and it will look like a clear glossy top coat with a pink tint. It's also really easy to build up for more of an opaque colour and I'm currently wearing four coats for an ultra-shiny polished nail with the white tips still peeking through. It's very, very pretty but I noticed a couple of chips on my index and middle fingers after about three days. This could be delayed with a top coat if you like to go longer without mixing up your mani, but I think it's down to building up extra layers more than anything. And even still, it wasn't overly noticeable as it's so nude on the nails anyway.
I'm in love with the shades in this collection, and I'm probably going to be eyeing up the rest of the polishes very soon-
Preppy Hibiscus
being the most likely contender! In my eyes all the colours work really well together as a collection and is extremely well done for a high street brand. What do you think of the
Rendez-cous á Paris
nail polish range?