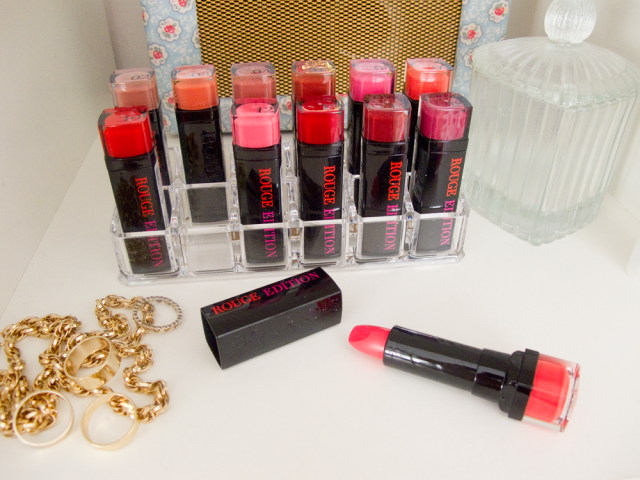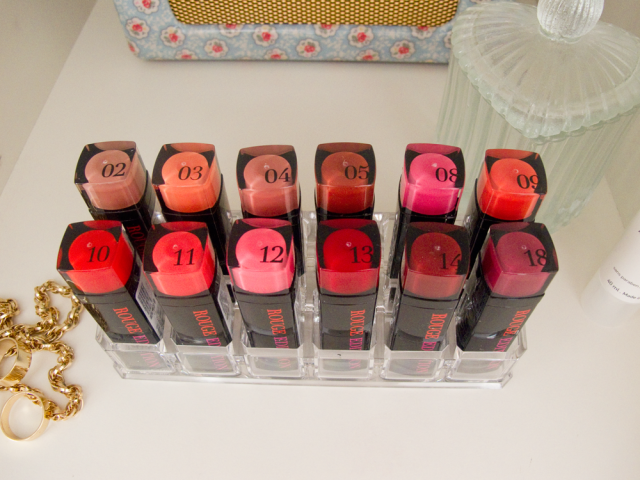 Bourjois Rouge Edition Lipsticks: £7.99 each*
Bourjois have been churning out some really impressive new products recently, these aren't
so
new as they've taken a little while to test out and swatch properly as there are quite a few of them! The Rouge Edition lipstick collection consists of 18 in total and I have 12 of them to talk about. The collection is divided into three parts; Preppy (01-06) a quintet of pretty nudes, pale pinks and soft peaches, Colour Block (07-12), a range of bolder, more eye-catching hues and finally Night Out (13-18), deeper shades of plums and reds for a vampy, glamorous look. All 18 lipsticks in the collection contain orchid blossom extract and claim to hydrate your pout for up to 10 hours. I'm warning you now- this post is going to be very picture happy..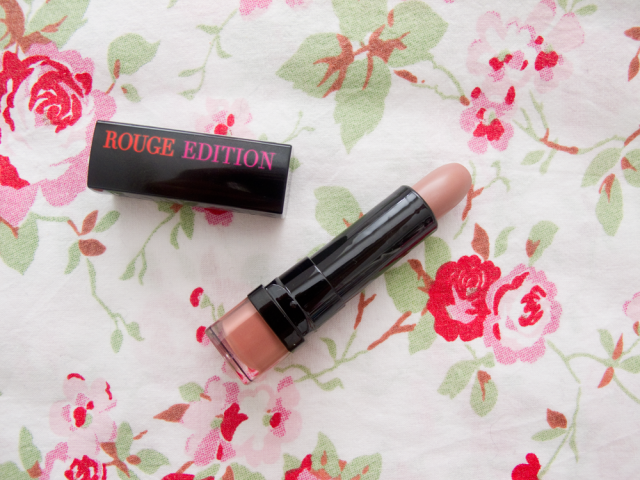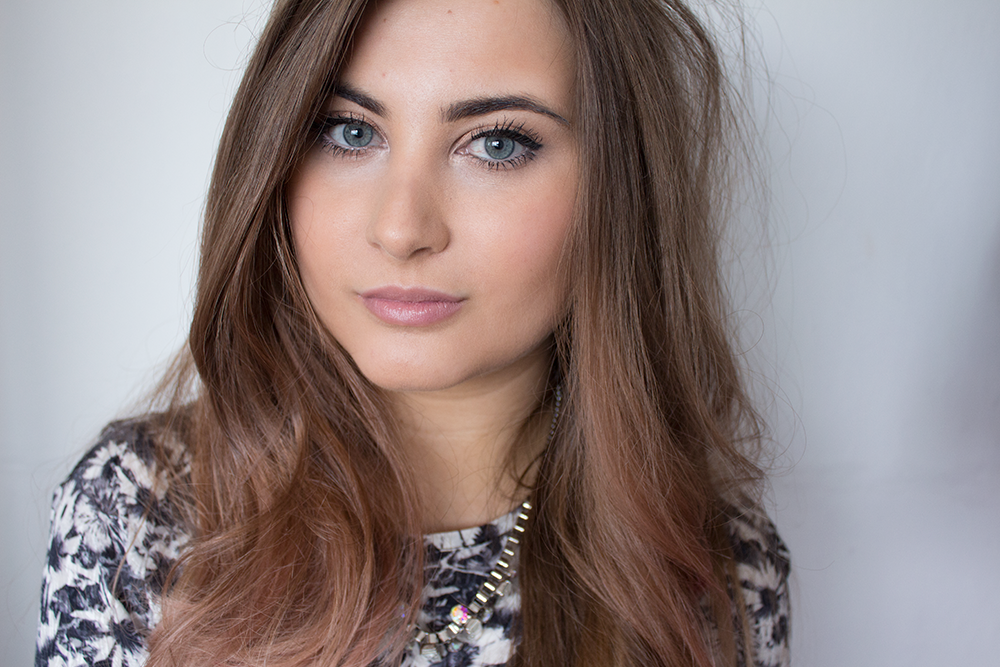 Bourjois Rouge Edition Lipstick in 02 Beige Trench
Beige trench is a pale beige pink and it almost looks like I'm not wearing anything on my lips. Due to the pigmentation in my lips it looks like I've just applied a balm but it's a lovely shade for every day and pairs up well with a minimal makeup look.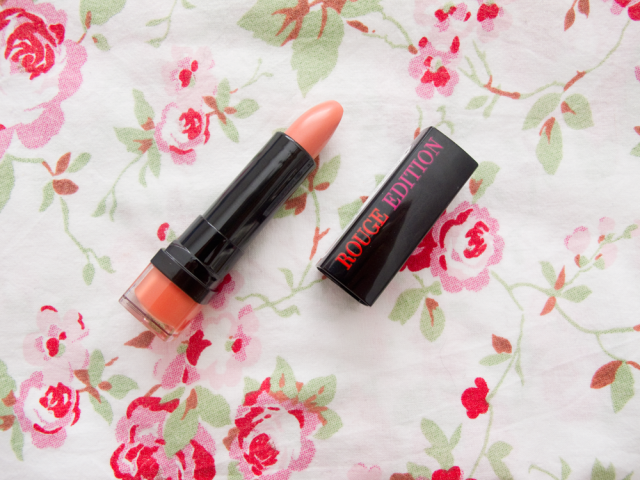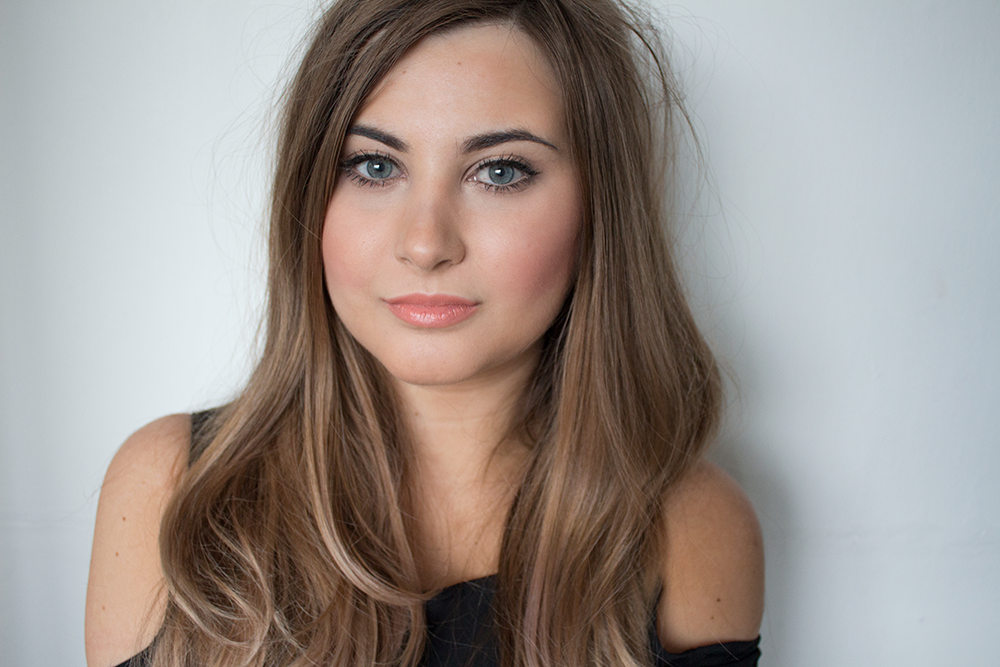 Bourjois Rouge Edition Lipstick in 03 Péche Cosy
A peach with light cream tones, Péche Cosy is one of my favourites here. I'm always drawn to these kinds of shades and this one didn't disappoint. I love to amp up a nude lip with more of a peach hue and I think this will prove very popular!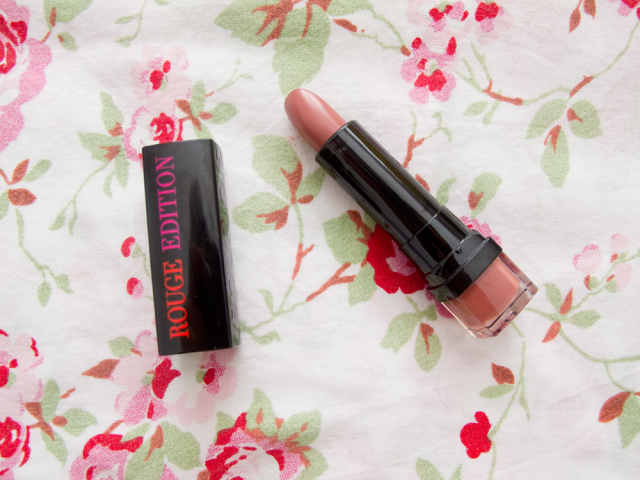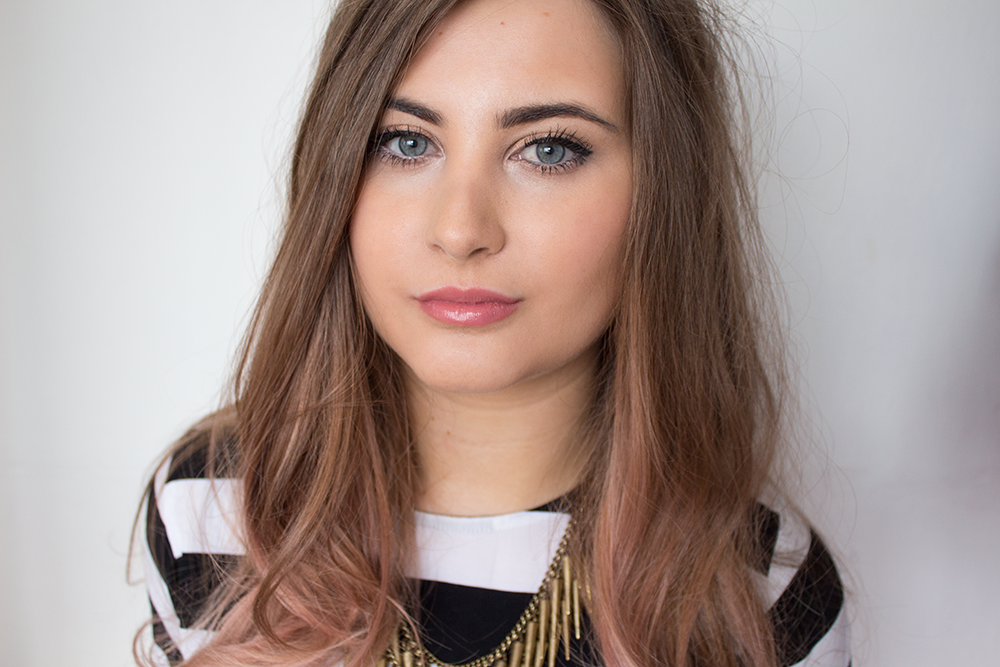 Bourjois Rouge Edition Lipstick in 04 Rose Tweed
Rose Tweed is an elegant mid-tone pink which I like a lot better on that I thought I would at first. It's juicy without being necessarily bright, and provides a nude lip effect without being too pale (which can unfortunately wash some of us out!).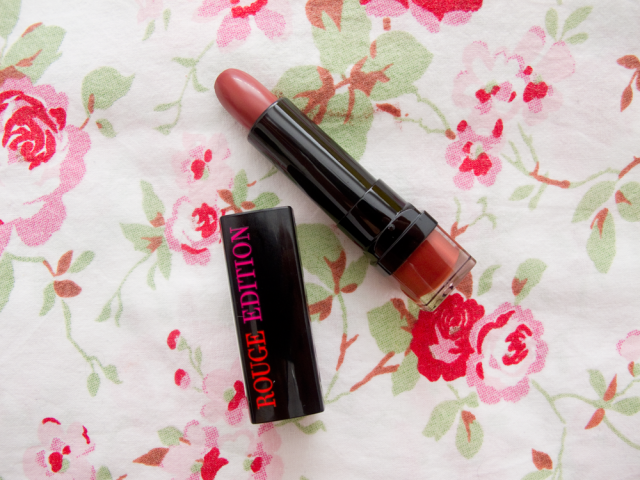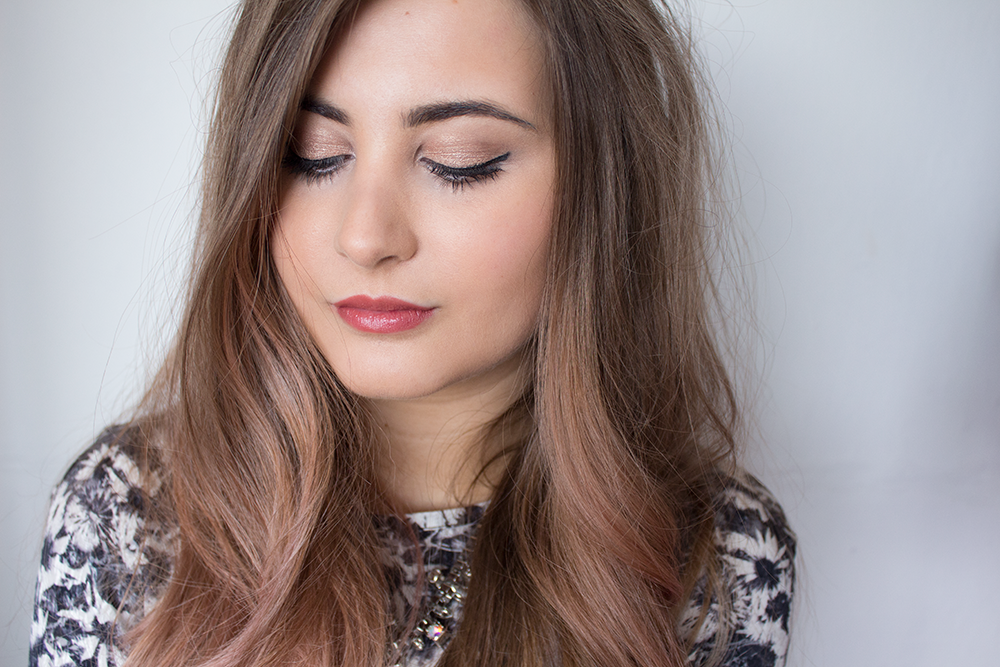 Bourjois Rouge Edition Lipstick in 05 Brun Bohéme
Brun Bohéme, described as a 'dusky pink with a touch of brown', seems to me like the opposite- more brown with a hint of pink to it. It's not my favourite, it's quite mature for my tastes personally but I'm not completely against its vintage appeal.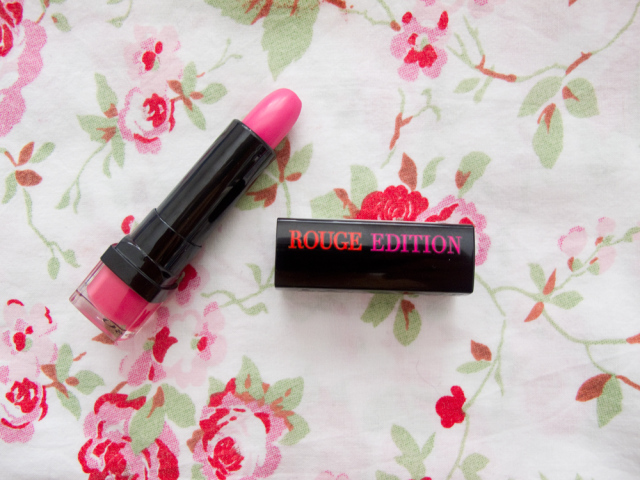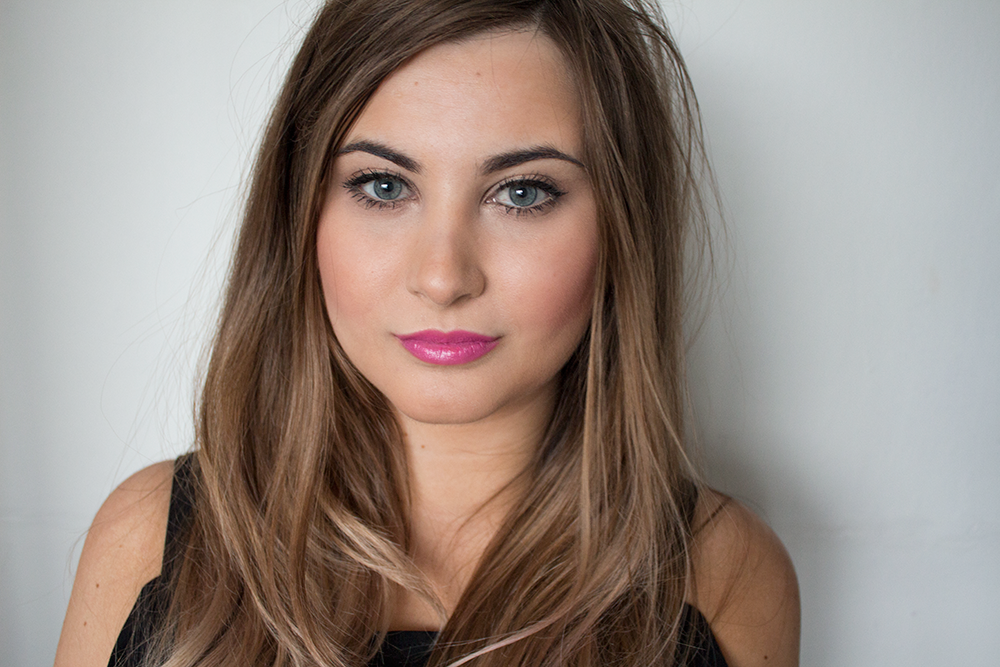 Bourjois Rouge Edition Lipstick in 08 Rose Studio
Rose Studio is described as a true pink but draws out quite blue-toned on me, compared to it looking more of a true pink in the bullet. I do like the colour though and could see myself wearing it both day and night.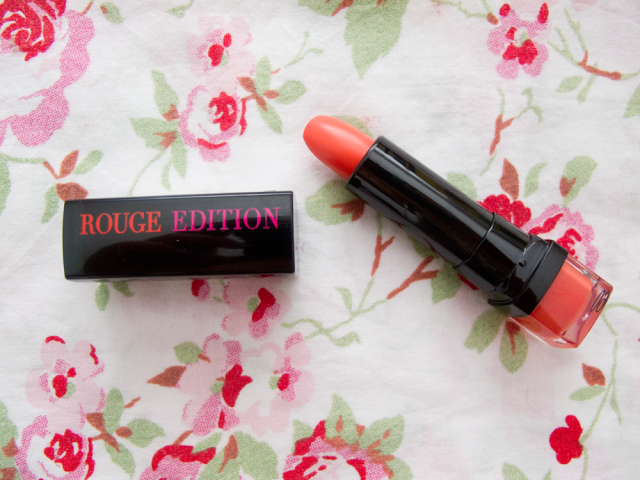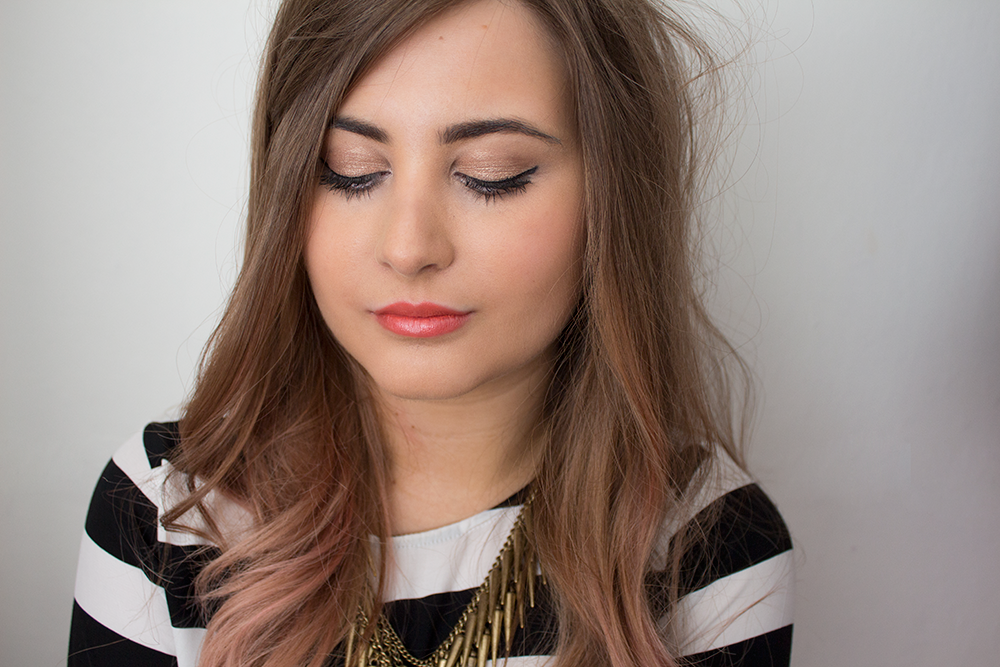 Bourjois Rouge Edition Lipstick in 09 Orange Pop Up
Orange Pop Up is a zesty, fruity bright coral shade and appears the tiniest bit frosty on the lips. I feel like this one looks a bit garish on me, which is disappointing as I love the look of it in the bullet!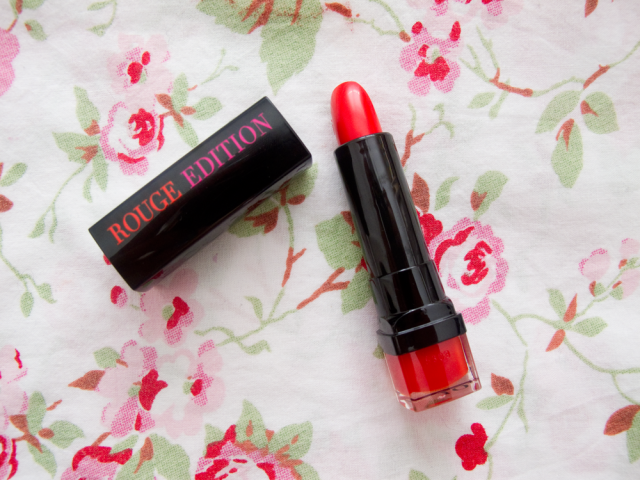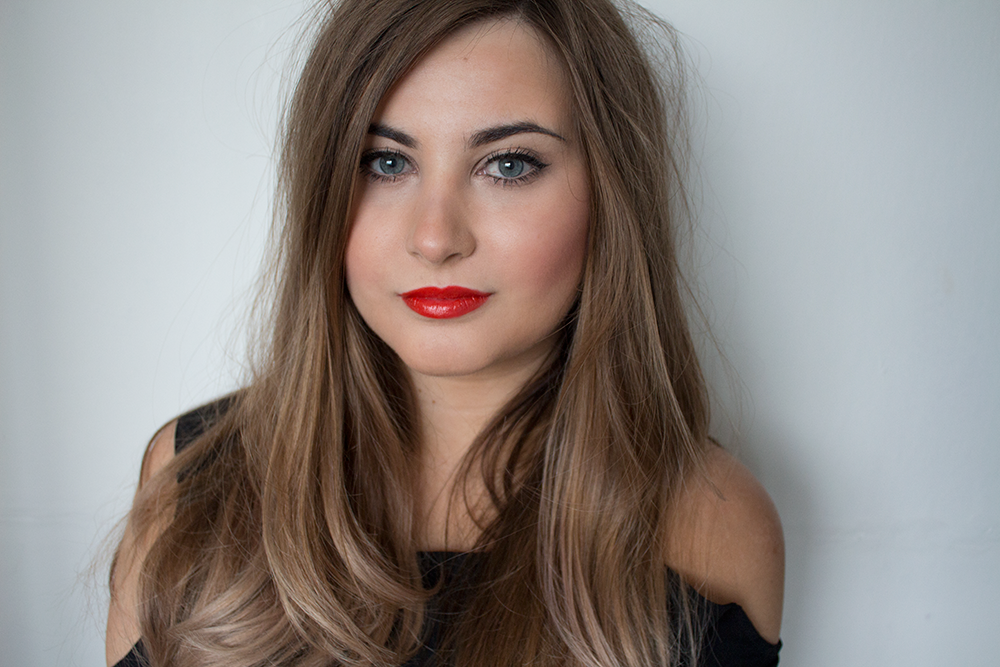 Bourjois Rouge Edition Lipstick in 10 Rouge Buzz
Rouge Buzz, a loud neon orange based red, is absolutely lovely. It's so bright and fresh- orange-reds are one of my favourite shades to sport, and great for nights out (if you keep your eye on it!). Gorgeously vibrant, I love!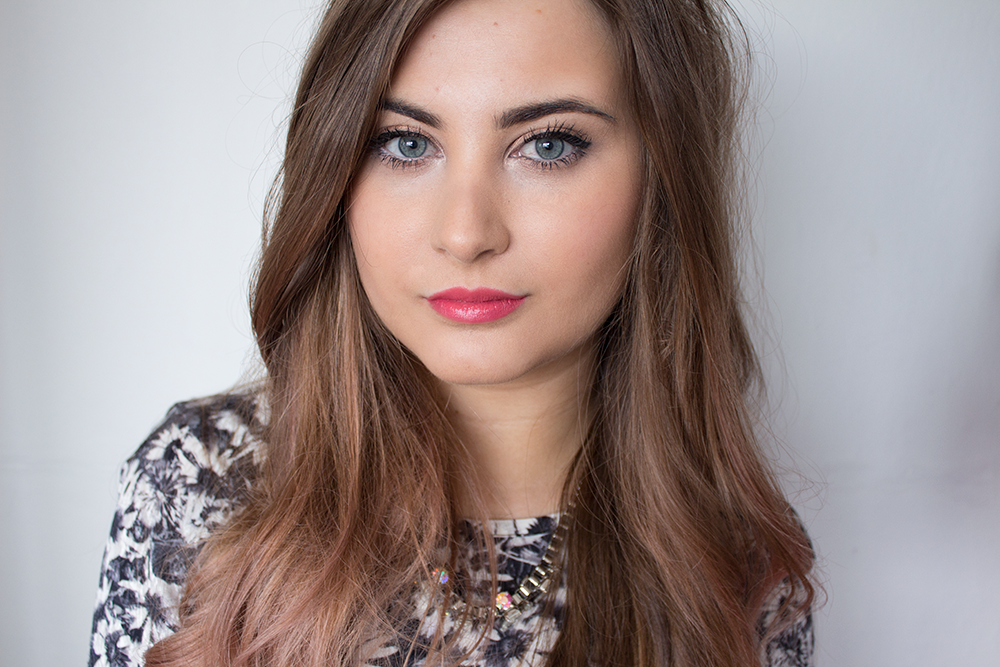 Bourjois Rouge Edition Lipstick in 11 Fraise Remix
Fraise Remix is a fruity pink with hints of coral. This is another one that looks a little bit frosty on the lips but nothing that screams too retro. I imagine this would look lovely in the summer with a (real) tan!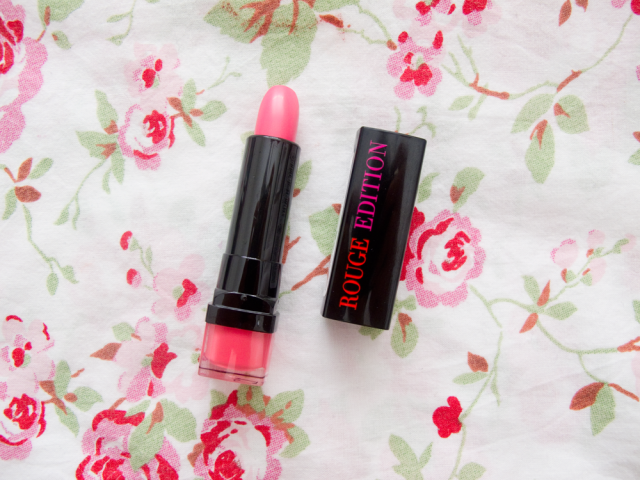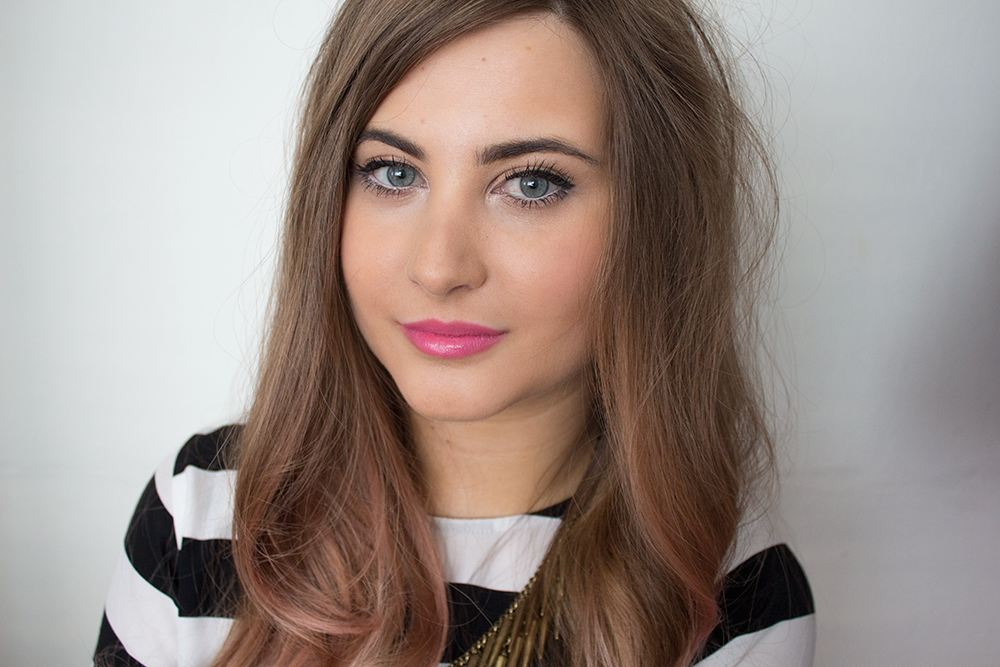 Bourjois Rouge Edition Lipstick in 12 Rose Neon
Rose Neon is an easy to wear bubblegum pink. It's sugary sweet without being too much, but looks a little more blue toned than how it looks in the bullet. I really like the look of this one and think it would suit most people.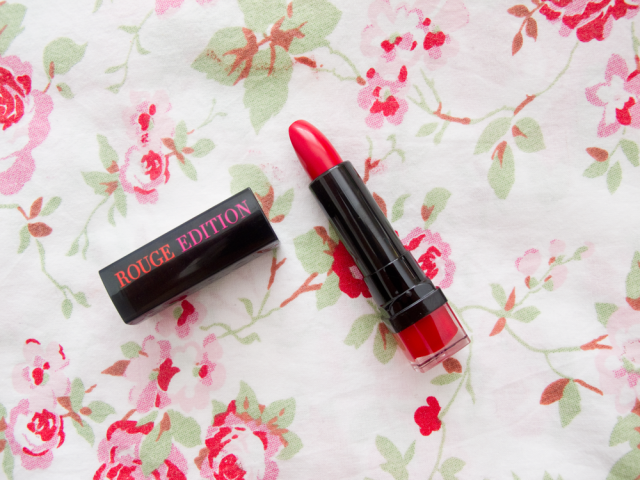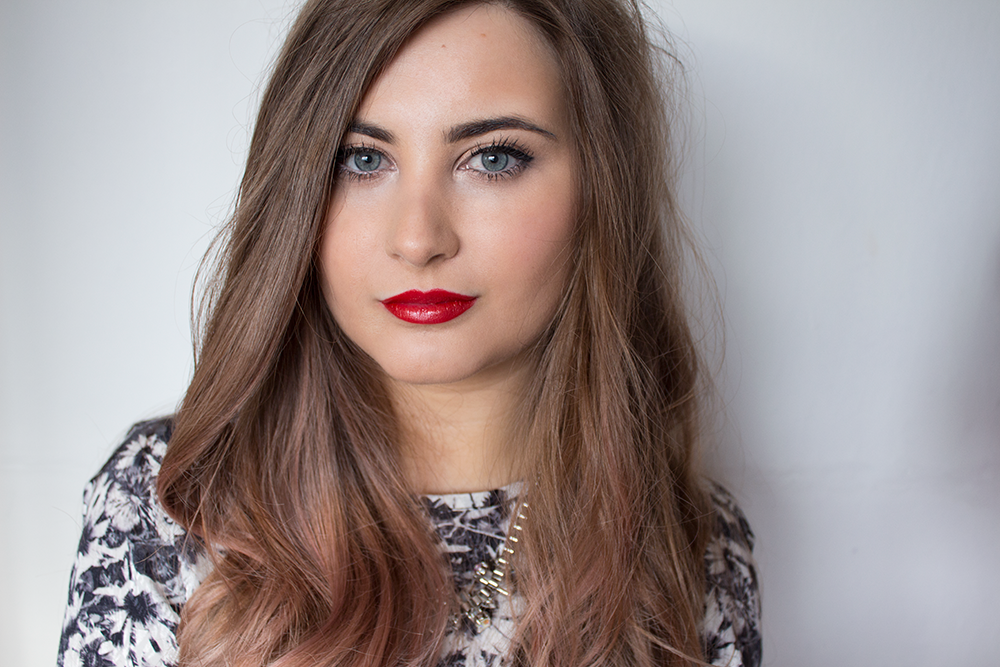 Bourjois Rouge Edition Lipstick in 13 Rouge Jet Set
Rouge Jet Set is an 'ultra glamorous classic red' which is deeper than it's more vibrant orange-based counterpart, Rouge Buzz. It's definitely more of a mid-tone red and because of that is a staple shade in anyone's collection.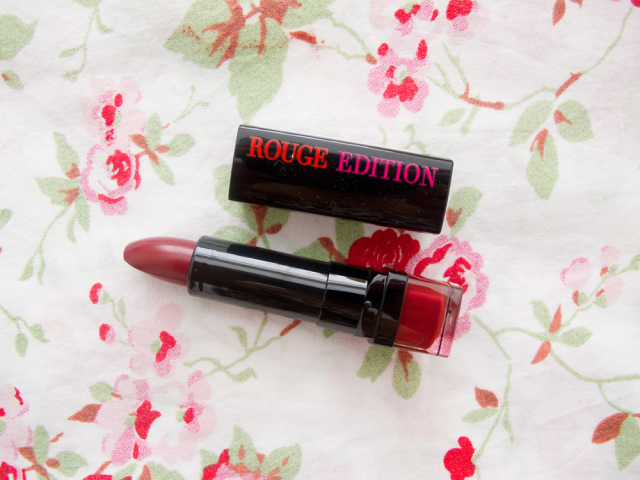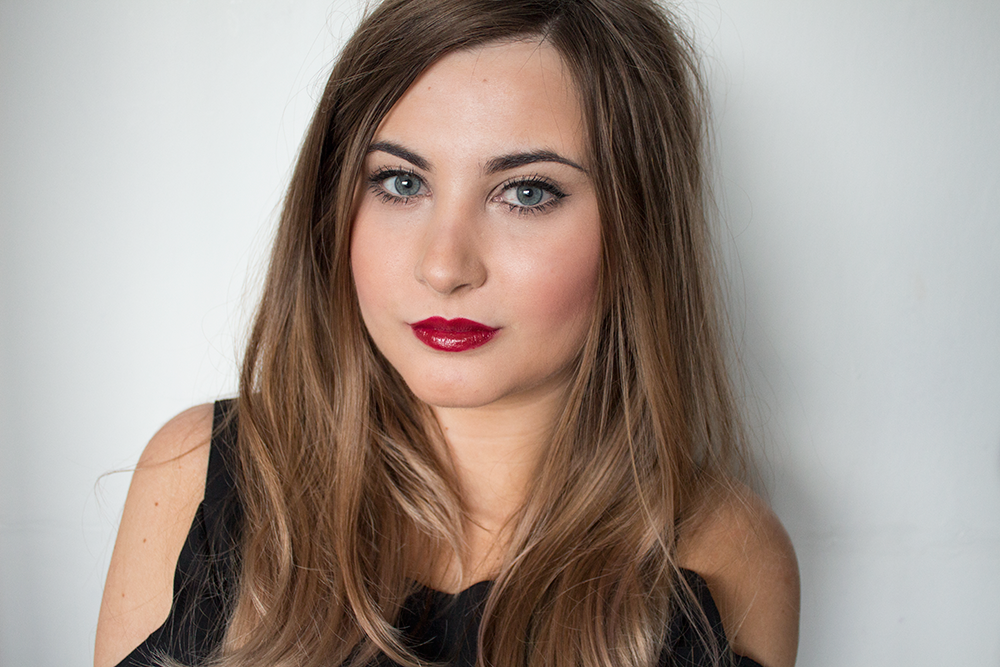 Bourjois Rouge Edition Lipstick in 14 Pretty Prune
Pretty prune is an intense deep plum shade which is so vampy and current but looks straight out of an old photograph.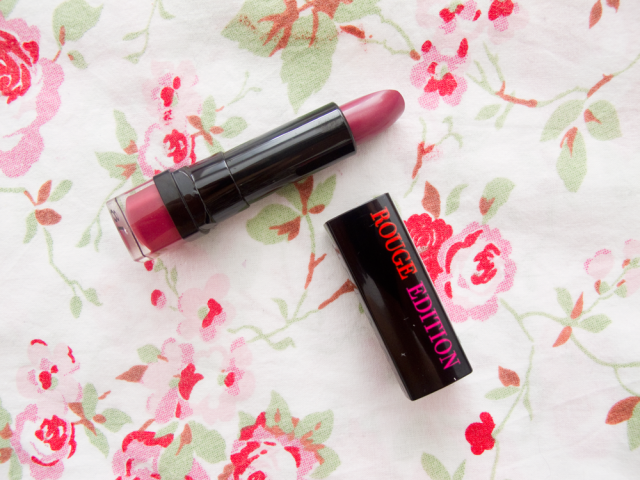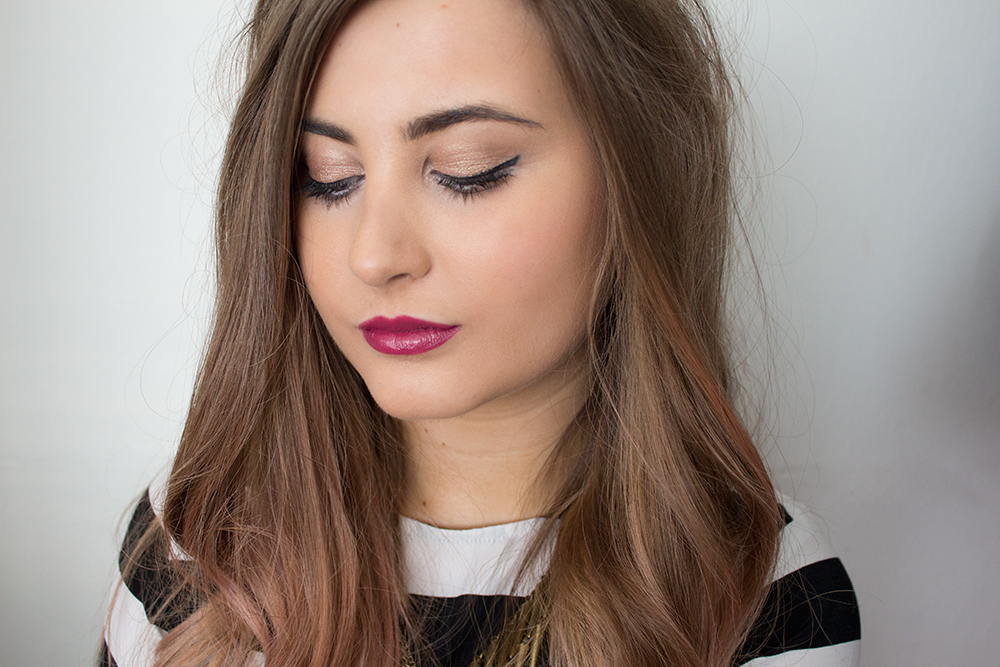 Bourjois Rouge Edition Lipstick in 18 Violene Strass
Violene Strass is a deep plum with a hint of golden pearl that isn't so in your face that it looks old fashioned. I like this on a lot more than I expected to! I think a good helping of bronzer helps with this one to counteract the purple of the lips.
I would usually write a mini review on each lipstick regarding the formula, application etc. but I'm only going to comment on the actual shades since every single one applies really well. The consistency is really creamy, and they all have a slightly glossy, healthy sheen to them. I haven't tested them all out for 10+ hours but I've had no problems with them disappearing before I expected them to in terms of eating, drinking and so on. I think the packaging is nice but also definitely drugstore territory as it's plastic. Overall I really, really like all of these, the formula is great, they don't have an off-putting scent like some cheaper lipsticks (although this is on the higher end of the high street price range at just under £8) and there's bound to be a shade to suit everyone's tastes! The affordability and the quality of these has really impressed me and I'd definitely recommend having a look at a few shades you like the look of the next time you're perusing your local Bourjois stand! I honestly don't think I could pick a favourite - what are your thoughts on the
Bourjois Rouge Edition lipsticks
?