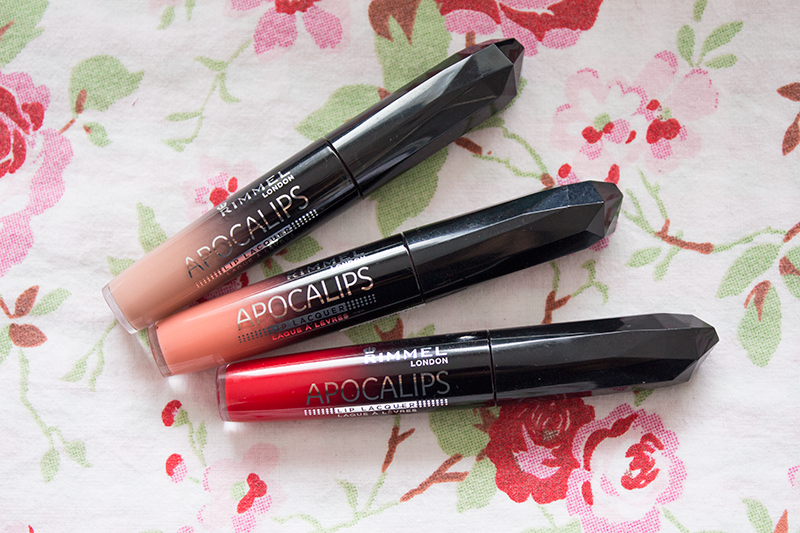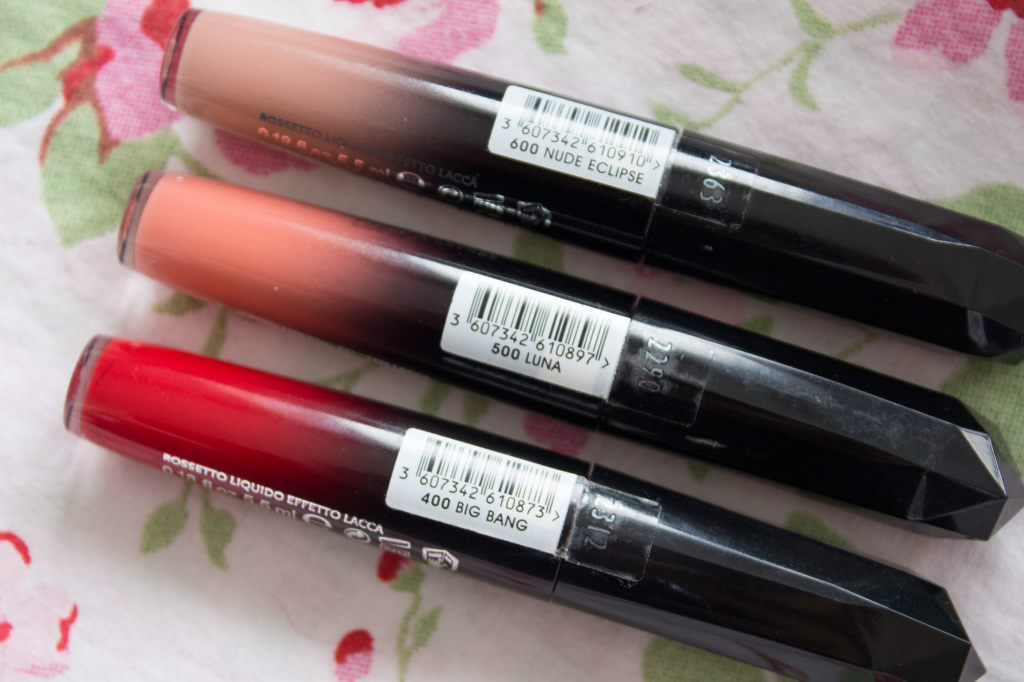 Rimmel Apocalips Lip Lacquers: £5.99 each
(L-R): Nude Eclipse, Luna, Big Bang
So this post has been a long time coming! Rimmel's Apocalips range has been around for a good few months now, I picked up some of them a little while ago and as my lipstick wardrobe is rather gargantuan already, I haven't been leaning towards these in a hurry. Another factor could have been that I didn't get on with them very well upon the first couple of uses, but I had a little play around and I've got to grips with them! The Apocalips promise an intense colour payoff you'd get from a lipstick, but with the shine of a gloss. There are 8 shades in total, all in a creamy conditioning formula which claims to 'last and last' with their pure colour pigments providing long-lasting wear. Here's what I think of them..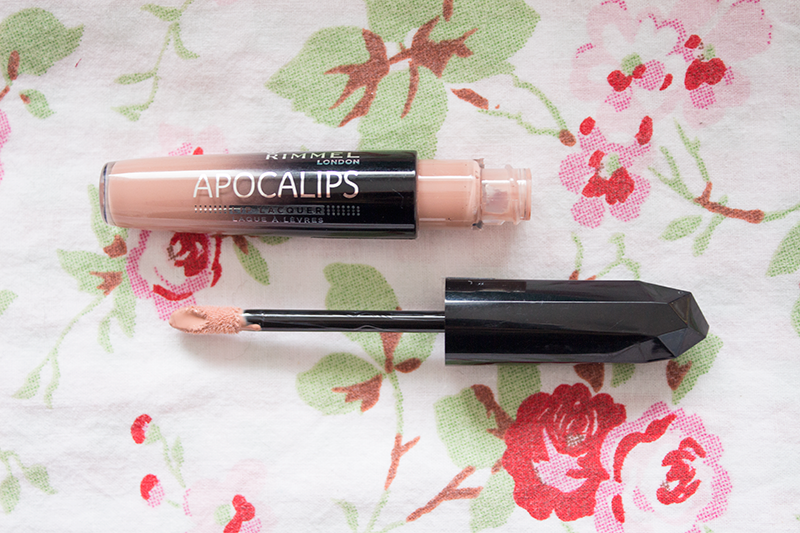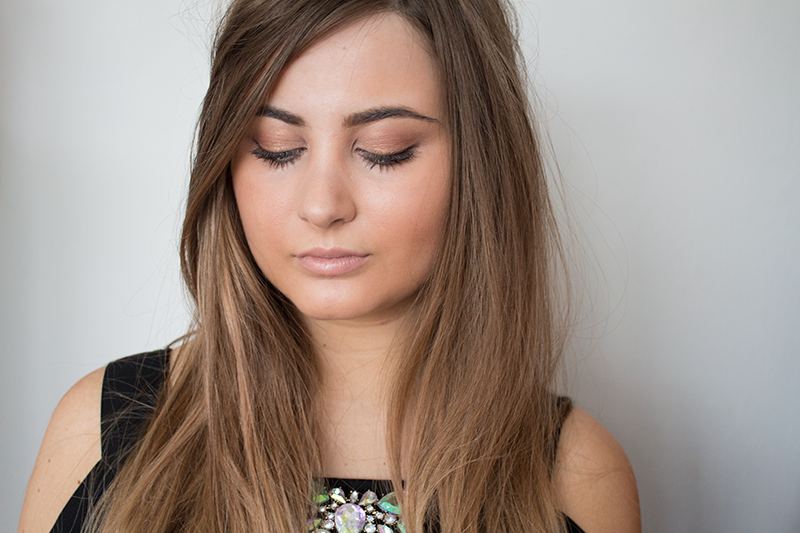 Rimmel Apocalips Lip Lacquer in Nude Eclipse
Nude Eclipse
is a very pale pinky beige nude shade. It has enough pigment to 'bleach' out any natural redness of the lips but has just enough pink in it to stop you looking like a corpse. I think this would look fabulous with a smoky eye, but it would be a safe bet to use a good amount of blush/bronzer with whatever look you pair it with, to ensure your face looks alive! I also thought this shade would cling to any dryness on the lips, which thankfully it doesn't!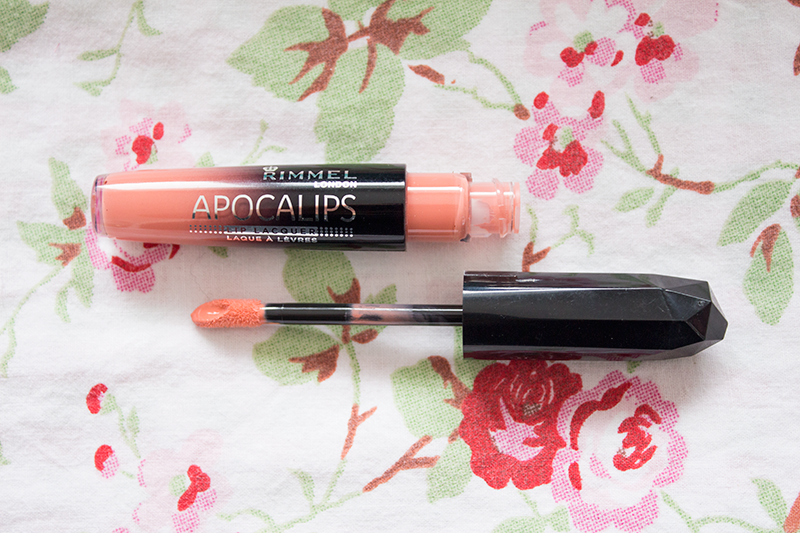 Rimmel Apocalips Lip Lacquer in Luna
Luna
, a gorgeous warm peach, was the shade I was most looking forward to trying out. Again it's not a 'bright' shade as such but this one has a load of pigment to make sure the colour stands out on the lips! I don't like wearing too much on the eye with this, as I feel the colour is attention-grabbing and it would all look a bit too over the top otherwise.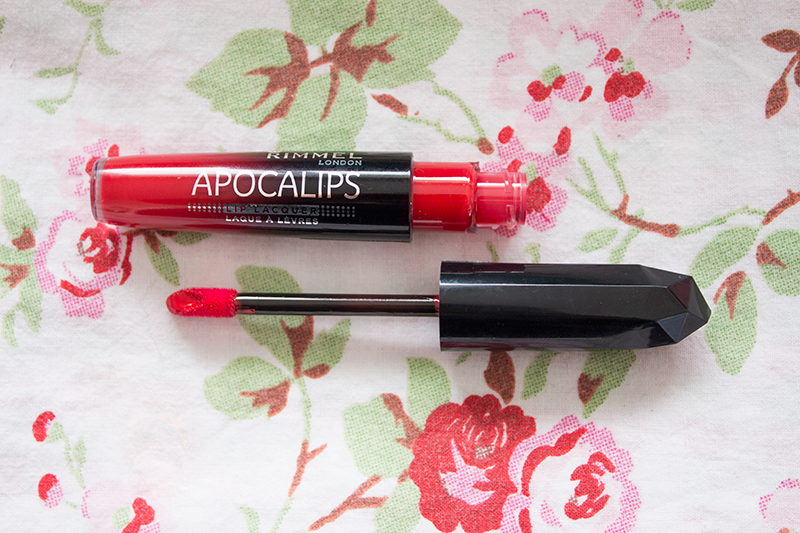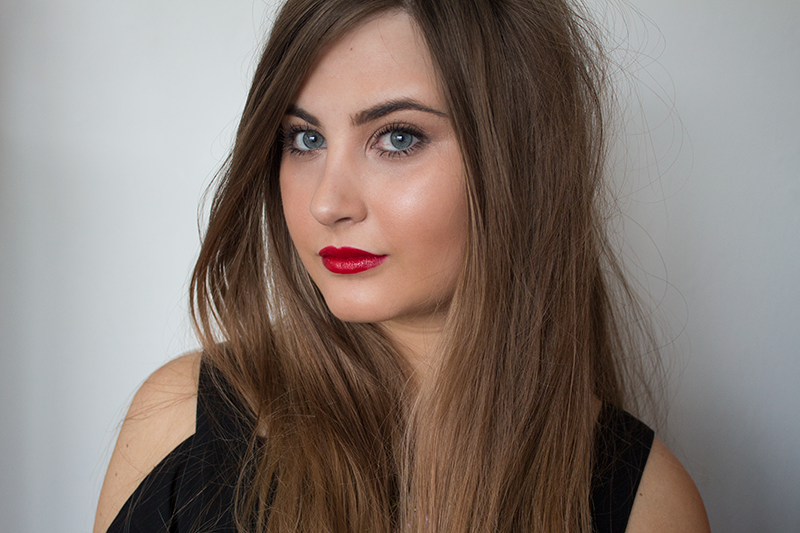 Rimmel Apocalips Lip Lacquer in Big Bang
Last up is
Big Bang
, which is a mega bright true red (not too orange, not too blue). As with the other two, this one is super pigmented and doesn't show up any dryness at all. I do like to wear a good red lip now and again, and this is perfect.
I wanted to touch on the formula and application of all of these together, as they don't really differ in those terms between shades too much. The Apocalips are super duper creamy and opaque and have excellent longevity for a high street brand (we're talking at least 6 hours here!). The applicator takes a little getting used to, and this is the reason for my somewhat late review. When you first unscrew the doe foot style wand, you see that the middle of it has a vat of product. This is way,
way
more than you actually need to do your whole lip without making a mess and having to touch up. The best way, for me, is to scrape as much as you can onto the inside of the tube. You need hardly any product for it to show up on the lips, and it's a lot easier to apply and create a neat line on the lips. Plus you can always use more, little by little, should you need to via this method. It's not rocket science, but I assumed (and I guess others may do, too) that the product you're met with in the wand is how much you need for one application, and long story short.. it's not. Just a little heads up!
All in all I really do like the Apocalips lip lacquers and every time I'm in Boots I end up oogling the stand to decide on my next purchase from the range. They're currently a pound cheaper at £4.99 too, so it may well be time to take the plunge! Any ideas which shade I should try next?
Katie
has brilliant swatches of all 8 shades, which you can check out
here
! Have you tried any of the Apocalips lip lacquers? Do you think they live up to the hype? I'm all ears..