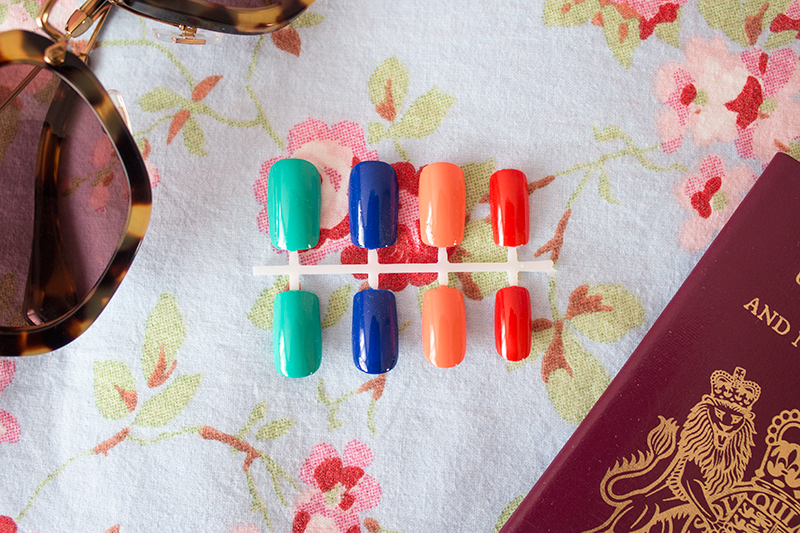 Bourjois South Beach Souvenirs 1 Seconde Nail Enamel: £5.99 each*
(L-R): Turquoise Block, In The Navy, Meli Melon, Rouge Poppy
Bourjois really are churning out brilliant release after release at the moment, one being the South Beach Souvenirs collection consisting of four shades of the
1 Seconde Nail Enamel
polishes, which are ahh-mazing.
Turquoise Block is a - you guessed it - pretty, bold greeny blue, In The Navy has a promising appearance of an electric blue but dries slightly darker (still gorgeous!), Meli Melon is a light peachy coral hue and finally Rouge Poppy is a warm toned red, which is just my kinda shade at the moment. All four are equally beautiful, but if you feel like the coral and red look familiar, it's because they're existing shades. A lovely mix of punchy colours with, surely, something for everyone.
Painting your talons with these polishes a complete doddle. The handle is comfortable to hold and the brushes are fat, wide and perfectly shaped to your nail for speed and precision. Formula-wise, it's thick and creamy but by no means gloopy. You're left with a super glossy gel-like finish that, on its own, lasts a couple of days without tip wear but I always think it's best to go all out and use a good top coat to seal in your handiwork anyway.
These bottles are a little too tall for my polish storage solutions, but I love them anyway. Also in the collection is a dotting tool for nail art, five 3D effect glosses and a trio of 'caviar topping' style nail beads, which I need to stop staring in awe at and actually put to the test! What do you think of these nail shades? Does one in particular take your fancy?