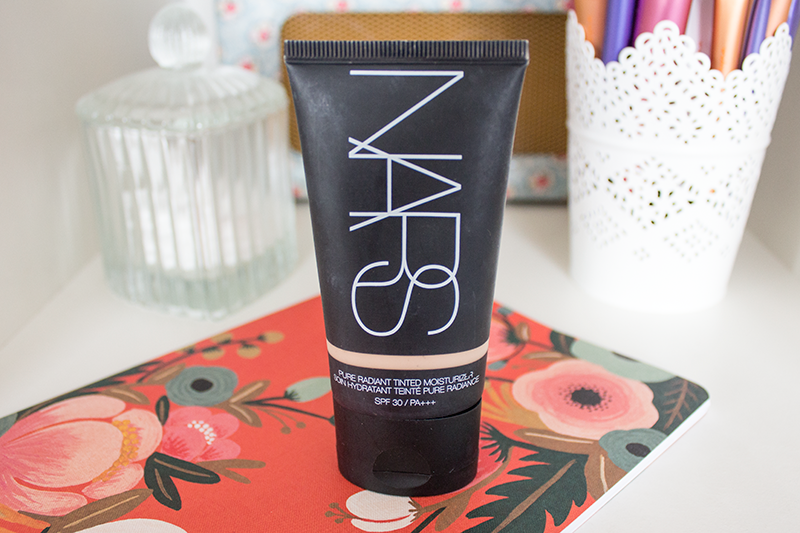 NARS Pure Radiant Tinted Moisturiser: £27
The
NARS Tinted Moisturizer
has been in my base rotation for quite some time now, and after not being quite so sure about it when I first tried it out, I've been wearing it again over recent weeks and taken quite a liking to the stuff. Infused with natural ingredients such as kopara and seawater, your skin is revived, smoothed and brightened. Yes please.
With a thick but slippy texture, this offers a skin-like finish and a quench of thirst to the complexion. It sinks in nicely and doesn't feel heavy on the skin at all. Coverage is light to medium, which is pretty good for a tinted moisturiser if you ask me. Concealer does help top up the flawless factor, but that's hardly revolutionary in the world of tinted bases in my opinion.It's oil-free but it does provide a really nice dewy glow on the skin; and although it's not greasy looking in the slightest I would probably still say this is a base best suited to normal, combination and drier skins. My shade, Finland is the lightest shade of the bunch as far as I can tell, and it works for me but is slightly yellow toned - just a head's up. It's also lightly and naturally fragranced, which hasn't posed a problem for me, but again it might be worth a thought.
I've really grown to love this, despite my initial drawbacks from it. It might be that my skin has changed and is a little less dry on my face these days - I guess I have all those overnight oils to thank for that one - and it's something that I've been reaching for on sunny days when I want a glow but want to skip a good highlighting session. Have you tried it?