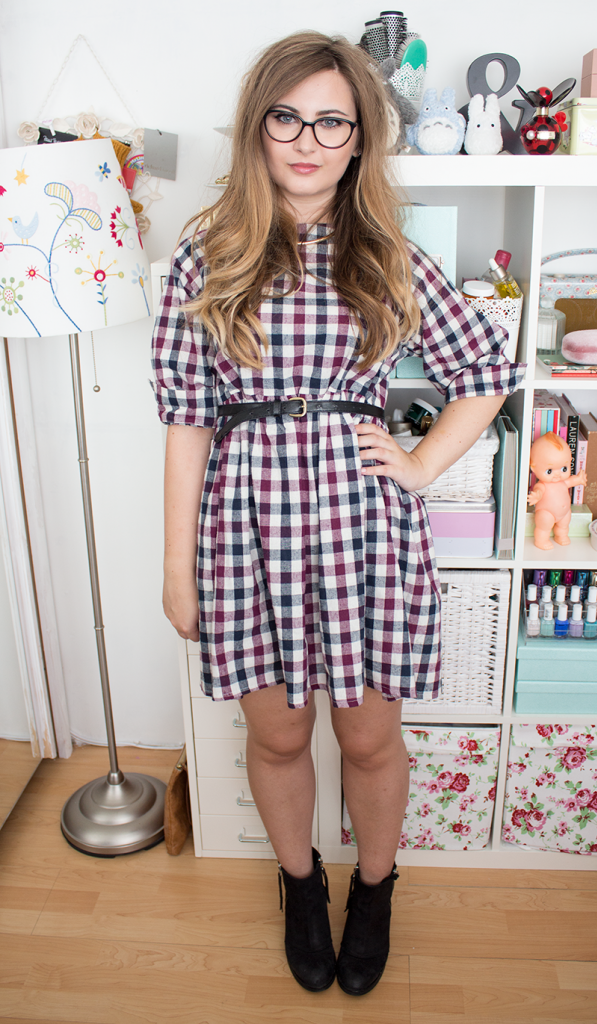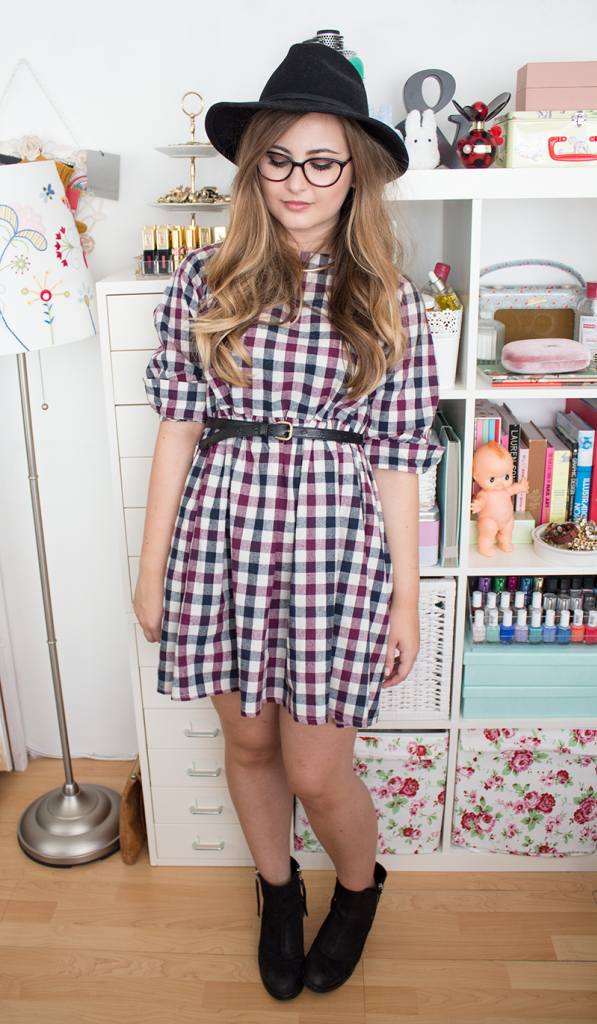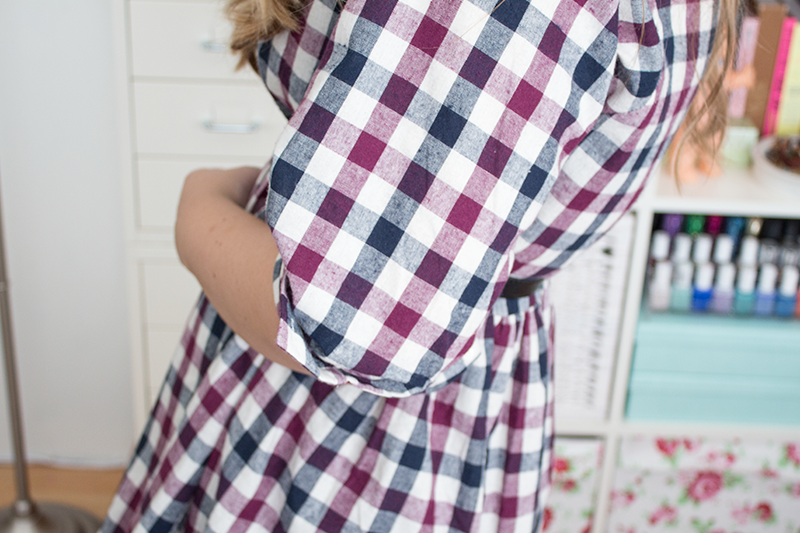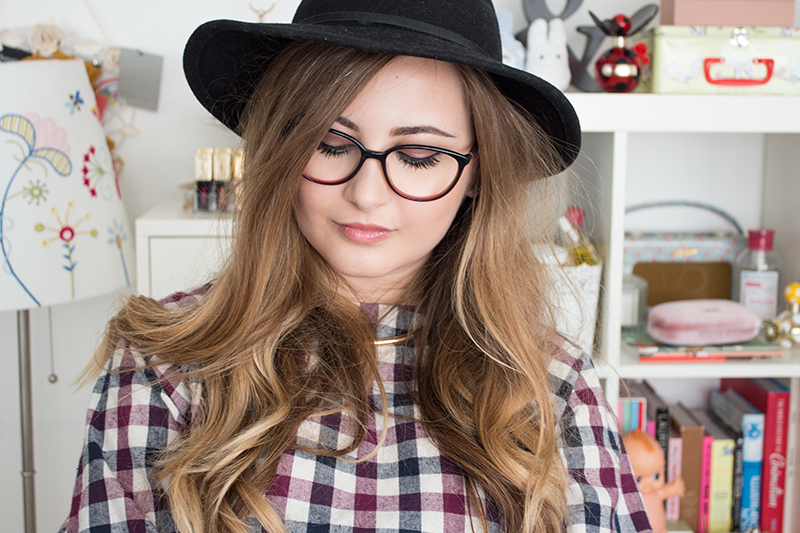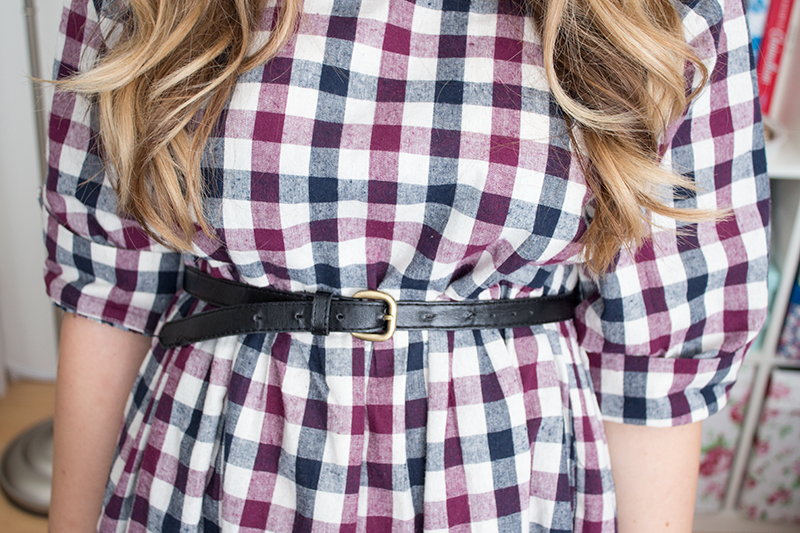 dress: The Whitepepper
hat: Topshop
belt: Primark
necklace: H&M (similar here)
boots: Topshop
Little bit different today! Over the years I've dabbled in eyewear - not for real reasons, no - and was even a little disappointed when I was younger that I had perfect vision according to the optician. Times seem to be a-changing though, and a new eye test is in order. All that staring at a computer screen has really done its worst.
Seeing as I really should
go to Specsavers
, the Osiris collection couldn't have come along at a better time. A range designed by haute couture designer Jorgen Simonsen, for the more daring of people out there. There are a ridiculous amount of options to choose from, with different colours, shapes and textures so there's something for everyone. I'm wearing the
B40 frames
, which are a big modern cat eye with a gradient on the inner frame, setting them apart from something I'd usually steer towards. I love that they're quite retro without looking dated, although I do feel a little librarian chic!
When it comes to dressing myself around the glasses, I wanted to keep it very 'me' but with a vintage feel - this oversized smock from
The Whitepepper
drew me in by the print, and coming from a West Ham household the colours remind me of my childhood. Accessories are kept simple with this little gold 'tube' type necklace I got at H&M a couple of years back, and then my standard tatty old black boots, which have been reheeled more times than I care to admit and I'm not sure what I'll do when I have to chuck them out! As part of this campaign, you can have the chance of winning my full outfit - keep your eyes peeled on social platforms for more next week!
Search for #Osiris to vote for my look as the best! And don't forget, you can win the whole look including the glasses on the Specsavers Facebook page. The 2013 Osiris eyewear collection by Jørgen Simonsen is only available at Specsavers and is included in their 2 for 1 offer where two complete pairs are available for £125.

Disclosure: Compensation was provided by Specsavers via Glam Media. The opinions expressed herein are those of the author and are not indicative of the opinions or positions of Specsavers.