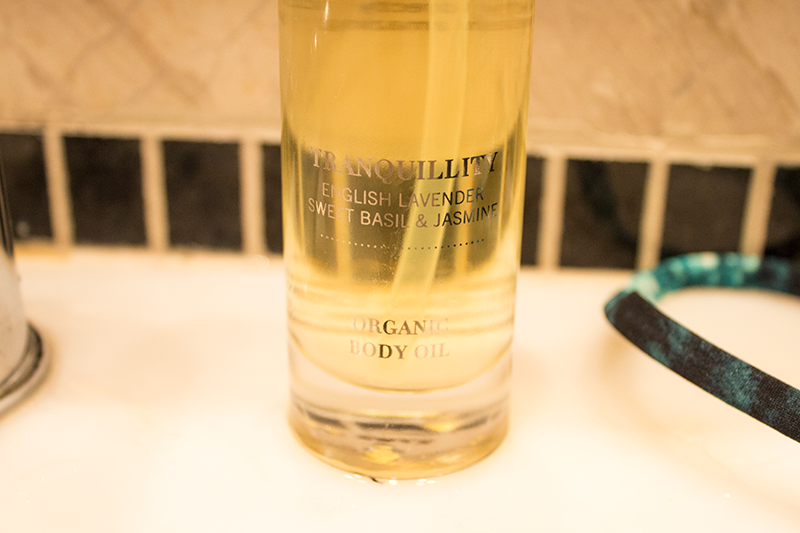 NEOM Tranquility Organic Body Oil: £30*
For someone who was so against lavender scented products not too long ago, it seems to be a complete selling point for me now. The NEOM Organic Body Oil is a hefty glass bottle packed full of goodness for the skin. Promising to restore and maintain hydration, the oil - packed with safflower and jojoba, rich in vitamins A & E - relaxes and softens at the same time.
I first took this away on holiday with me back in June to use as a wind-down treatment following a shower after a long day of swimming and sunbathing. Unfortunately I go through oils like there's no tomorrow (my thirsty skin knows no bounds!) so the contents are diminishing pretty fast. For this reason it's strictly reserved for 'pamper nights' - when I'm really in need of a good night's sleep, and I usually like to bundle it together with other lavender scented things for the whole shebang. A little goes a long way though, and sometimes I like to add a pump or two into a running hot bath to coat the whole body instead of over-using the product afterwards. The fragrance works so well to help relax me though - it's English lavender instead of the more typically used French lavender, as it's a slightly more 'clean' smell, along with jasmine and sweet basil.
At £30 it's definitely a rather indulgent treat, but for those nights when you just
need
a certain something to set you off, this is what I'll reach for over a laborious body butter session. Think of it as a generous helping of wine in the evening, without the headache the next morning. Blissfully sin free and highly recommended. Is
NEOM
a brand you're familiar with?