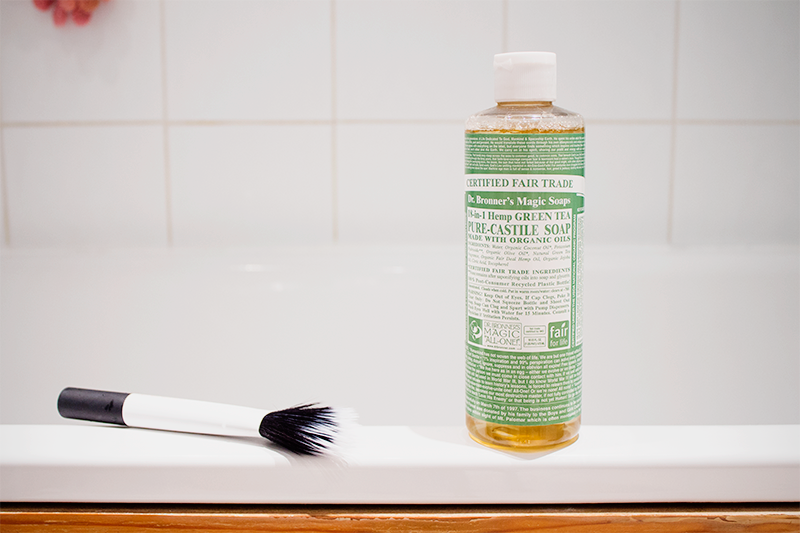 Dr Bronner's 18-in-1 Hemp Green Tea Pure Castile Liquid Soap (437ml): £8.50
I first tried out
Dr Bronner's liquid soaps
many moons ago, when a few teensy samples came in a beauty box that I can't quite remember. I really enjoyed using them for a few different reasons, so I soon stocked up on a bottle of the
almond version
. I'd managed to get through almost a full bottle but it became a bit too sickly sweet in scent for me in the end, so I repurchased in the form of the
green tea variety
not long ago. So what's the big deal with these soaps?!
The Dr Bronner castile liquid soaps boast a huge eighteen uses, and are bursting with organic ingredients. Coconut, olive, jojoba and hemp oils make up the majority of the small ingredients list, but the soaps are also infused with antioxidants and natural fragrances. The green tea 'flavour' claims to carry beneficial properties for skin such as blemish fighting and gentle but efficient cleansing. To be honest I just wanted to try a colour I'd never seen before!
While these soaps get a lot of praise for their ability to get makeup brushes extremely clean - and that they
do
- they offer a multitude of skills in the household. I've tried them out as a clarifying shampoo (best results for me have been mixed with a regular shampoo for the first wash only, and a conditioner is absolutely essential as it can get a bit too squeaky clean and tangly), cleaning out the bath after a weekly exfoliation session, and as a plain old hand soap. Other uses are as follows.. face/body wash, shaving gel, cleaning fruit & veg of chemicals, and possibly the most bizarre of all, toothpaste. I don't think I'll be giving that one a go I'm afraid! Unless perhaps I end up trying the peppermint..
My preferred used for these is of course for evicting all the grime away from the depths of my makeup brushes - it's a job I put off for as long as possible but takes no time at all when I use this. Swirling a wet, soapy brush around in the palm of my hand seems to dissolve every last bit of that unwelcome orange tinge on my foundation brushes. No mean feat I'm sure you'll agree! The bristles are left completely squeaky clean, which is why I'm not so keen on using it for my skin/hair as it does feel like it's capable of drying things out a little too much. But for my brushes, it beats baby shampoo hands down for me; it's one doctor's appointment I'm happy to consider. Have you tried any of the Dr Bronner
liquid soaps
?