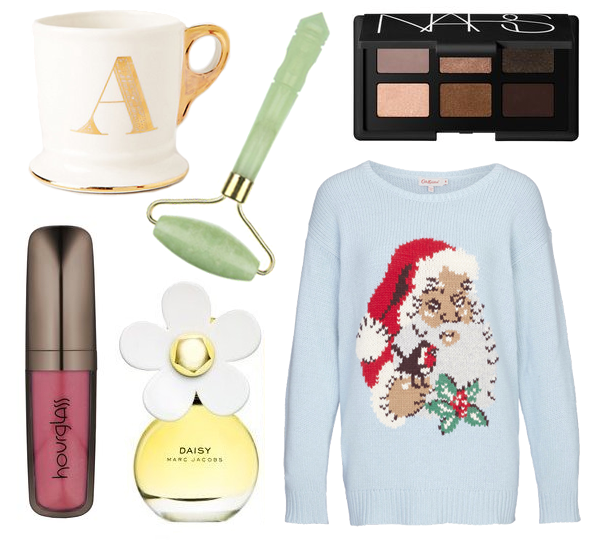 1, 2, 3, 4, 5, 6
Now that it's December I can accept that it's Christmas, even though its return has been scarily quick! I thought I'd make a little wishlist for gift inspiration - if you end up buying more for yourself than for others, I won't tell. Promise..
Anthropologie Golden Monogram Mug
: I
may
have just ordered a his and hers pair of these..
Ying Yo Jade Facial Roller
: placebo effect or not, I've seen some rave reviews about their toxic-draining powers.
NARS And God Created The Woman Palette
: wasn't this sold out and impossible to find?! It seems to be an online exclusive at Space.NK for its return. NARS shadows are awesome, so if you haven't tried them before, it's a great place to start.
Hourglass Opaque Rouge Liquid Lipstick in Edition
: I have a couple of these now, love them!
Marc Jacobs Daisy Purse Spray
: one of my favourite scents, in a perfectly petite size.
Cath Kidston Father Christmas Jumper
: do I need to say anything?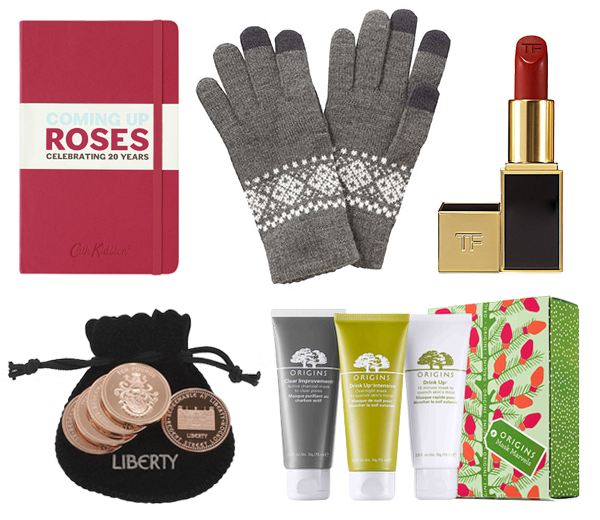 7, 8, 9, 10, 11
Cath Kidston Coming Up Roses Moleskine Notebook
: I need a new diary for the new year - enough said.
Muji Fairisle Smartphone Gloves
: because nobody should have to choose between Instagram and warm fingertips.
Tom Ford Jasmine Lip Color in Rouge Fatel
: I haven't tried anything from Tom Ford yet - this needs to change!
Liberty Gift Coins
: a lovely little alternative to a cash gift (even if they're almost too pretty to spend).
Origins Mask Marvels Trio
: I've been on the lookout everywhere for this but the early birds seem to have grabbed them!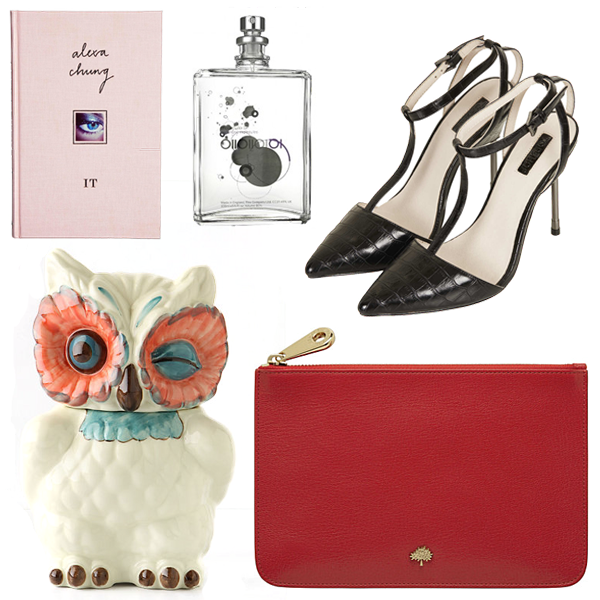 12, 13, 14, 15, 16
Alexa Chung 'It'
: perfect for that 'read more books' resolution come January.
Escentric Molecules Molecule 01
: so I don't have to steal anymore spritzes from mum.
Topshop Croc Pointed Heels
: in theory I shouldn't like these at all, but I do (and they're on sale)..
Anthropologie Owl Cookie Jar Canister
: I got this for my birthday yesterday, it's so cute I can't bear it!
Mulberry Pouch
: if I were to pick a designer here, it was always gonna be Mulberry. PLZ.
Have I left you lusting? Don't forget there are plenty of discounts floating around before the weekend is up - most are on the sites' homepages, but a quick Twitter search will do the trick if not. Happy shopping!