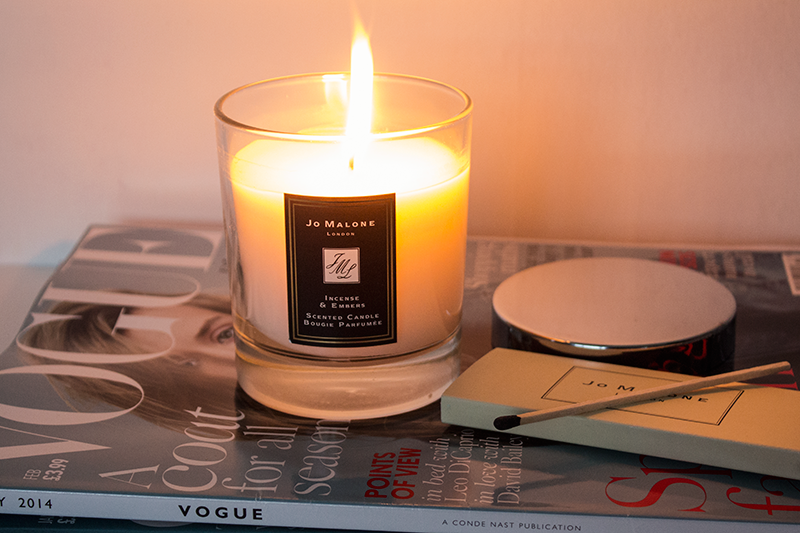 Jo Malone Incense & Embers Home Candle: £39*
Candles have become a catalyst in transforming my room into a more relaxing, happy environment over the past year or so. As if I didn't have enough in rotation at the moment, Jo Malone have just launched their
Just Like Sunday
collection for the New Year and they are nothing short of gorgeous. The idea behind the collection - created by style editor Charlotte Stockdale - is all about the perfect Sunday, showcased through four unique and indulgent scents.
I've been trying out the
Incense & Embers
candle, which on first impressions I didn't think I would like all that much, but boy oh boy was I wrong! The fragrance is completely luxurious, with a multitude of scents in the mix such as silver fir, white pepper, incense, napa leather, golden amber and vetiver. The fragrance is powerful without interfering and is such a relaxing aroma. It has quite a masculine feel but the softness stops it being too restrictive to bachelor-pad-only territory. Despite having a tough bout of the common cold at the moment, I can still smell every little whiff of this and it's shot straight up to the number one spot in my candle collection. I'm dying to sniff the others too.. don't
Sweet Almond & Macaroon
,
Green Tomato Leaf
and
Lavender & Lovage
all sound equally divine?!
You're promised a burn time of 45 hours with this beauty, which works out at less than a pound per hour of use - I really do think this is justifiable when it's a fragrance you won't want to use every hour of every day. A beautiful gift idea too - beautifully packaged and paired with a silver lid and a box of matches to see you through the duration. I'm so impressed and I can't wait to go and have a sniff at the rest of the collection soon! Do you have a favourite
Jo Malone
scent?
SHOP THE POST