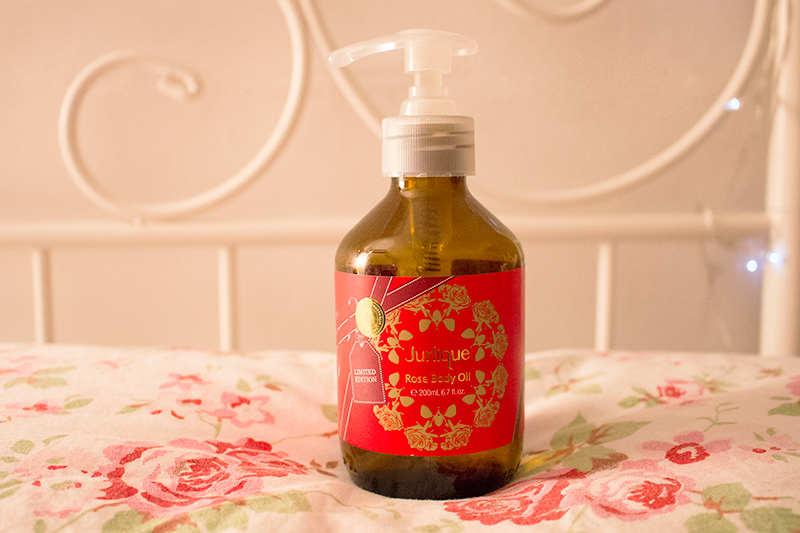 Jurlique Limited Edition Rose Body Oil (200ml): £76*
I'm a big fan of body oils; my skin can feel quite dry and tight if I don't moisturise and applying a cold lotion or body butter isn't always the most thrilling idea after a bath or shower when all I want to do is get straight into a onesie - especially in the colder months. For this reason oils are at the top of my list when it comes to a hit of hydration.
Jurlique are all about organic, pure skincare that brings science and nature together in a powerful way. The Rose Body Oil is suitable for all skin types (oils are good for you!) and offers a multitude of benefits on the inside and out. Containing rosemary to restore and rebalance oils, chamomile and lavender to soothe, antioxidant vitamin E and macadamia and jojoba oils to soften, it's really jam packed with goodness!
I like to use this straight out of the tub, when I've towel dried but am not bone dry - the slight moisture works well with oils as it gets locked in, without being diluted on the skin. The fragrance is quite strong, for someone who's not the biggest fan of rose scents it can be a little off-putting so I'm not as generous as I might be with others. I generally use about 6-8 pumps for the whole body, and I've still got more than half of the bottle left from using it most nights since I got it back in December. It's really not my favourite scent but I've enjoyed the skin benefits of using this oil - I'm really interested in having a try of the
Lavender Body Oil
instead next time, as it'll be amazing for winding down in the evenings. And to think I never used to like the smell of lavender either..
The original price tag is absolutely ridiculous and I'd never repurchase something that expensive - although it's much cheaper on
Feel Unique
, and works out at a better value since the usual packaging (which I actually prefer to be honest!) has half the amount and costs £38. Another reason I'd much prefer to try out the Lavender or even the
Lemon
version!